April 14, 1979 – Wolfgang Walter Halbig marries Kathleen Audrey Crace
img src="/wp-content/uploads/2019/08/image160.jpg" alt="Halbig fired as head football manager at lake weir"/>
May 9 1979 A blurb in the Ocala Star-Banner explains Wolfgang's recent employment history.
It is reported that, after being abruptly and publicly fired from Lake Weir High School, Halbig was transferred to Lake Weir Middle School.
Wolfgang then received a coaching offer (apparently bumped back down to defensive coordinator) from Forest High School in Ocala, which he tentatively accepted and worked at for one week before changing back to Vanguard High School, where is expected to start as an assistant coach.
Concerning the coaching position at Vanguard, Wolfgang would later claim in his deposition that "I was told I had the job."
Dec 21 1979: The Halbigs purchase property in the Tall Pines development. Wolfgang would later describe this property as "a home  for our first son to be born."
1980____________
May 5, 1980: Wolfgang's first son, Erik Halbig, is born.
According to Wolfgang, it is around this time that his selection by Vanguard High School as "head coach" (assistant coach according to the Ocala Star-Banner) is rescinded. In his deposition, Wolfgang asserts that this was the result of yet another shadowy conspiracy at work, this time at the school board.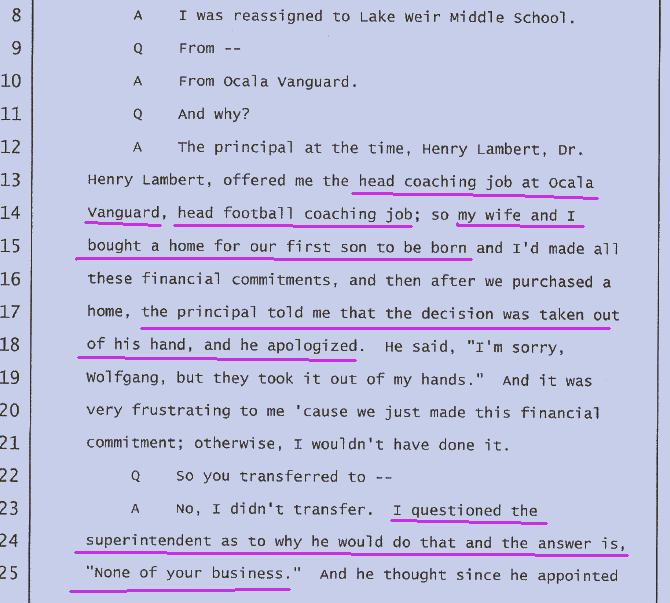 NOTE: Wolfgang in 2012 also apparently believes he was transferred to Lake Weir Middle School from Ocala Vanguard, when according to the May 9 1979 article he was actually reassigned to Lake Weir Middle after being fired from Lake Weir High, not Vanguard High. He may be having trouble keeping track of his rapidly accumulating collection of humiliating professional blunders.
October 27 1980: "Vanguard Teacher Battles for Driver's Ed": Halbig is "currently teaching driver education" at Vanguard High School, and "embarks on a crusade" to make driver's education mandatory, after the State of Florida lifted the requirement. He cites one reason why driver's education (the class he teaches, and thus his meal ticket) should be required: the safety of schoolchildren. His experience as a State Trooper is cited to add credibility to his sales pitch.  [LINK]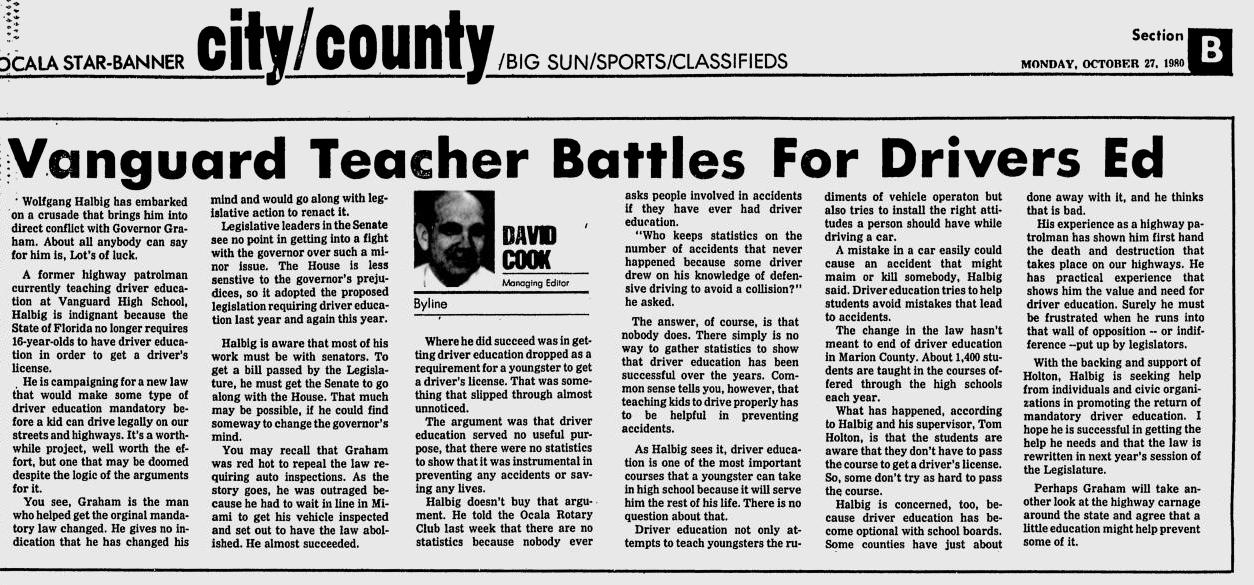 1981___________________
March 2nd 1981: Proposal Seeks Driver Education For Those Under 18 – A follow-up to the October 27 1980 story about driver education notes that Halbig has managed to get a proposed bill in front of the Florida legislature. The writer, Davi Cook, is once again praising Halbig [LINK]: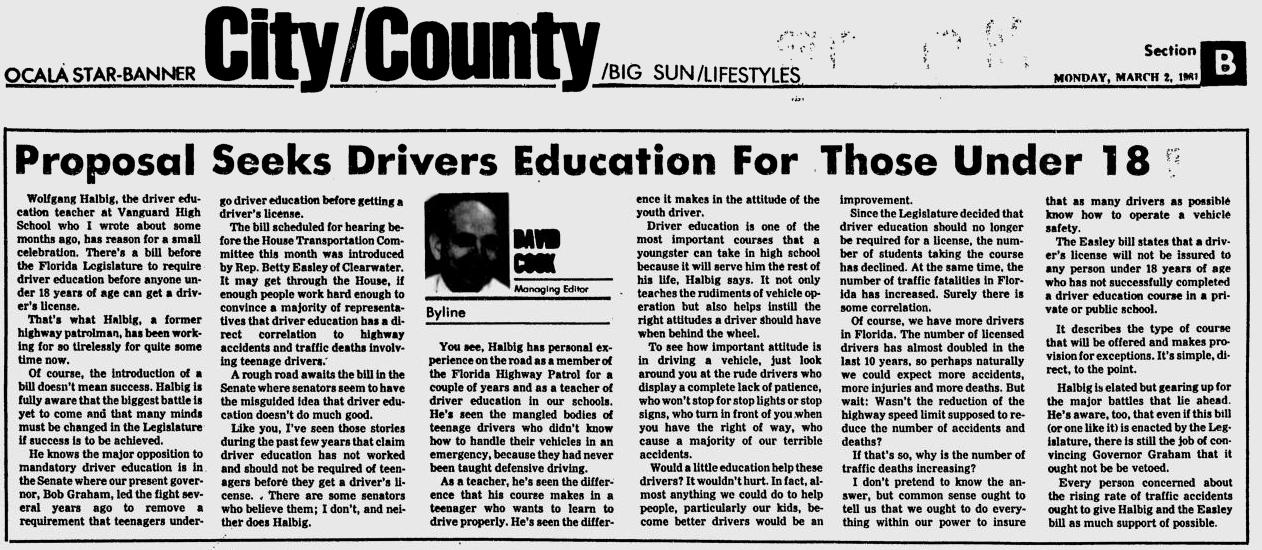 "You see, Halbig has personal experience on the road as a member of the Florida Highway Patrol for a couple of years, and as a teacher of driver education in our schools. He's seen the mangled bodies of teenage drivers who didn't know how to handle their vehicles in an emergency because they had never been taught defensive driving."
Mar 19, 1981: short newspaper mention of Halbig's past at Abilene Christian College. [LINK]
1982__________________
Feb 2, 1982 – "Racquetball is Growing" – Halbig is quoted. He is described as an instructor at the "Fontainebleau Racquet Club in Ocala."
May 10, 1982, Halbig apparently gets the school district to expand driver's ed to include motorcycles. thus increasing his own employability as a driver.

March 25, 1982: News article notes that Wolfgang has filed to campaign for a seat on the Marion County school board, district 5. He is listed as a Democrat. [LINK]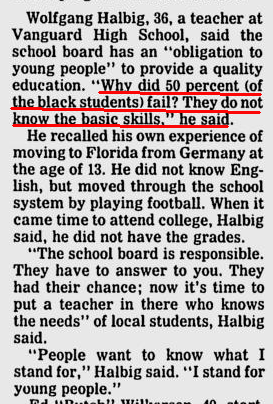 August 26, 1982, Candidates Call for Increased Education –  [LINK] Wolfgang is observed participating in a political forum at the local funeral home. The reporter documents how, when it came Wolfgang's time to address the predominantly black audience, Halbig urged them to support him, though was vague on what exactly he plans to do if he were given power:
"The school board is responsible. They have to answer to you. They had their chance; now it's time to put a teacher in there who knows the needs" of local students," Halbig said.
"People want to know what I stand for," Halbig said. "I stand for young people."
September 7, 1982: Teacher, Two Women Are Injured Newspaper article reports "Vanguard Teacher" Wolfgang Halbig was in a car accident (it does not appear that the accident was Halbig's fault.) The article also mentions that "Halbig was an unsuccessful candidate in the primary election earlier this month for a seat on the Marion County School Board."  

Halbig sues the other driver's insurance company, and the suit is eventually settled out of court.
Summer 1983: End of the school year. This marks the end of the period that Wolfgang Halbig lists on his under simply "Vanguard High School, Teacher/Coach, 1975-1983" but in fact appears to have unfolded in a more complex series of shorter tenures within the county. At least one of the moves was as a result of Halbig being fired in disgrace:
Fall 1975 – Summer 1977:

Lake Weir High

 (

two years

)

Fall 1977 – March 1978:

Vanguard

(

less than one year

)

March 1978-January 1979:

Lake Weir High

 (

less than one year

January 1979 –

???

1979:

Lake Weir Middle

 (

less than one year

)

??? – ???

1979:

Forest High School

 (

one week

)

May 1979 – April 1983:

Vanguard

 High School (

four years

)
2012 Wolfgang says: