1977______________ _______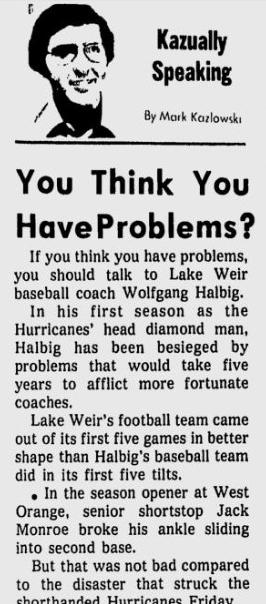 March 13 1977: Halbig is listed in an article as "The Lake Weir baseball coach." Halbig blames injuries for the 10-2 loss against the Eastside Rams, but despite the multiple injuries in one game, also claims that "We just didn't have the aggressiveness a ball club should have."(Ocala Star-Banner: "Lake Weird Nine Loses Bizarre Battle)
March 15 1977: Halbig's coaching is "besieged by problems" according to a local sports writer. (Ocala Star-Banner: Kazually Speaking / "You Think You Have Problems?)
Halbig assures readers that his Hurricanes, who have yet to win a game, will soon be training using a pitching machine, even after he learns that there are no electrical outlets at the practice field.
"I think we'll be back in the second half of the season." [Halbig] said confidently. " Once we get it together, look out."
May 26 1977 An article notes that Halbig is now coaching football and living in Ocala, Florida.
http://www.newspapers.com/newspage/47656837/
"Managing Rose Pool for the second summer in a row will be Wolfgang Halbig, an Abilene Christian University graduate who now lives and coaches football in Ocala, FL. "
1978_____________________________
Mar 15 1978 "Coach Halbig Returning to Lake Weir High School" – published in Ocala Star-Banner.
https://news.google.com/newspapers?id=0JZPAAAAIBAJ&sjid=xQUEAAAAIBAJ&pg=6858%2C3892471
The article notes that Wolf is "currently an assistant football coach at Vanguard" and is "returning to Lake Weir as the head football coach" after having been "an assistant coach" at Lake Weir for two years previously. It is noted that the job will be Wolfgang's first year as a head coach.
It is also noted that, before coming to Lake Weir the first time, Wolfgang was "defensive coordinator at Lake Brantley," apparently referring to the six-month stint in 1973 that was cut short due to Wolf's concerns about the attire the female students wore.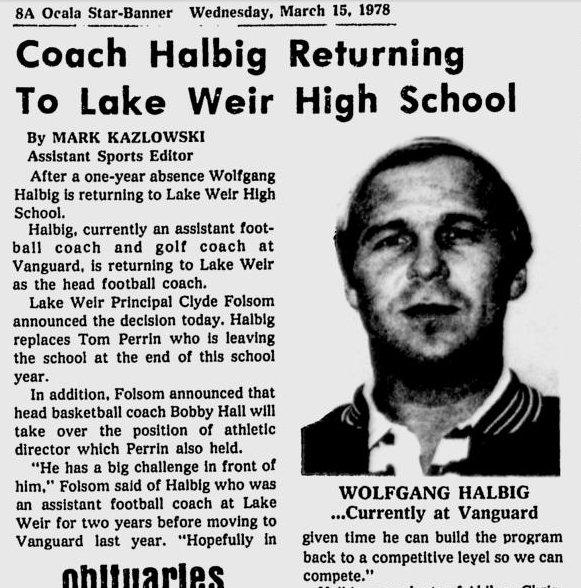 ---
Question #2 Wolfgang MUST answer: Why did you try to make it look like you never worked at Lake Weir High? You say on your resume that you were at Vanguard High School from 1975 to 1983. Here we are in 1978 and you've only been at Vanguard for one year, and are about to leave. What happened at Lake Weir High School that you don't want people to know about?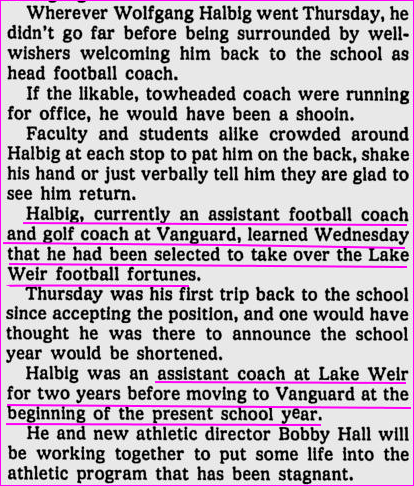 March 17 1978: – "Welcome Back Wolf a Hit at Lake Weir" – article about Wolfgang's warm welcome back to Lake Weir High School. Lake Weir reportedly welcomes Wolfgang as a returning hero, and hopes are high that he will show his gratitude to the school that first took a chance on him by rebuilding their struggling football team.
Halbig explains that he has a "three-pronged plan" for improving the team, in that "the three things he said he wants out of the players are enthusiasm, dedication, and loyalty."
The article, like many glowing articles about Halbig from this era, is written by columnist Mark Kazlowski, demonstrating that Halbig has developed a talent for recruiting journalists to increase his profile. LINK
May 1, 1978: Halbig To Speak To Boosters: A short newspaper blurb notes that the Lake Weir High School football team's spring practice starts the following Monday, with Wolfgang as the new head coach, setting the stage for Halbig's speech to the Lake Weir Booster Club. The school's principal, Clyde Folsom, is also in attendance for this event, as is athletic director Bobby Hall.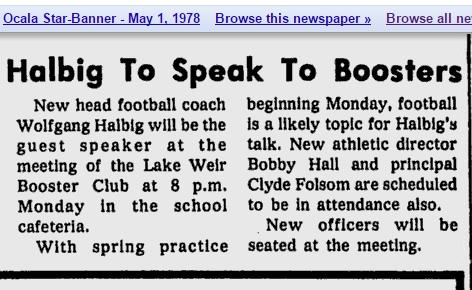 Sept 7, 1978: 'Canes Expect Exciting Year: In a lengthy write-up, Ocala Star-Banner interviewers learn that Wolfgang has long-term plans to rebuild the team, and Halbig is "really looking forward to two years from now and not right now. We'll try to be respectable."
https://news.google.com/newspapers?nid=1356&dat=19780907&id=rZ5PAAAAIBAJ&sjid=vwUEAAAAIBAJ&pg=4583,1838577&hl=en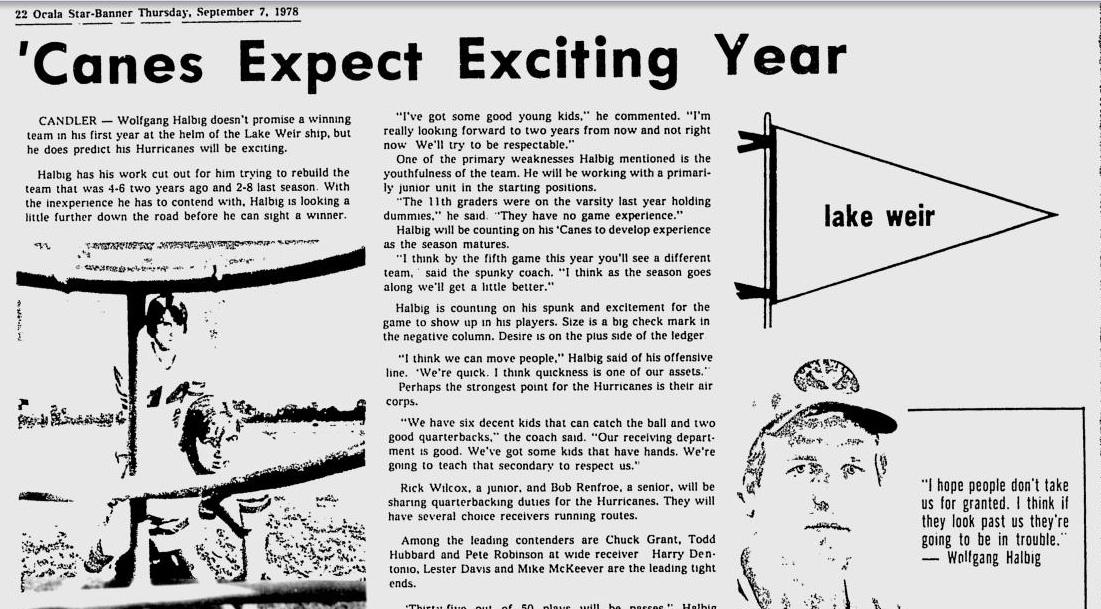 Sept 28, 1978 Halbig still confident in the Hurricanes, losing every game so far. "I believe we can win. Things are going to start going our way real soon and it could be Friday night up there."
https://news.google.com/newspapers?id=v55PAAAAIBAJ&sjid=vwUEAAAAIBAJ&pg=2048%2C8087551
1979_________________________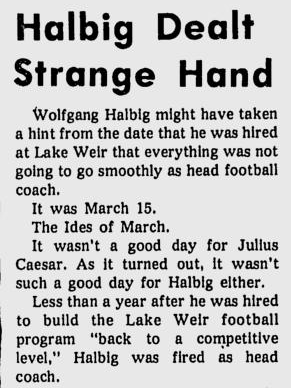 Jan 27 1979 Halbig is fired by Lake Weir High School from his position as head football coach, with a record of 0-10 and in less than one year. The firing is attributed not to his win/loss record, but for lying about looking for another job, when it is discovered that Halbig had been "checking on a coaching job in Sebring where he could be closer to his ill mother in Avon Park." [LINK]
In his statement announcing the firing of Halbig as head football coach, [Clyde] Folsom said in part, "Within the past week, I have learned that Coach Halbig was interested in another coaching position in a high school in the state. It is my responsibility to secure someone who is totally committed to develop the football program at Lake Weir High School. Therefore, in the best interest of the football program, a change was necessary.
Halbig defends himself by hiding behind his students:
"If I were interested in leaving Lake Weir, I would have told the kids first and Clyde second," he said. "That's how I feel about the Lake Weir kids. My Job was to go into Lake Weir High School and build a program." […] "My first obligation will be to the kids first and him second."
Halbig goes on to explain that he didn't even contact Sebring High School. He had contacted someone who works at Sebring High School who was also his acquaintance, and that furthermore, that person had advised Halbig that Sebring was looking for "an older coach with experience," so Halbig had no chance.
"All I wanted to find out was what they were looking for," Halbig said. "I never sent a resume. Never had an interview. If that's a reason to show unloyalty, if that's a reason to be fired for, then I don't envy the next person coming in there."
In the end, Halbig insists that his firing was all a conspiracy by Clyde Folsom and Bobby Hall to silence him: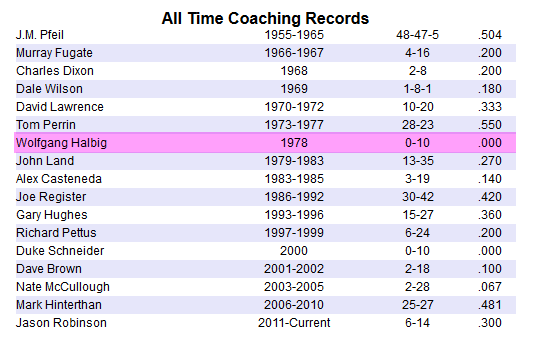 ---
Question #3 Wolfgang Halbig MUST answer: Why were you planning to abandon the Lake Weir High School Hurricanes, right when the children needed you the most?
The school trusted you. You told everyone that "by game five you'll be a different team." But they were not a different team by game five – under your leadership, they lost every single game!
Even worse, you lied to those children about planning for the next two years with them. You were actually doing everything you could to ditch out on them and leave them without any coach for the next season. Some of those kids were probably aspiring college athletes, and you tanked their stats. Why would you lie like that? What sort of person does these things?