Chapter 5: Splitsville
1991__________________
Wolfgang Halbig is working at Lyman High School as Assistant Principal during this time.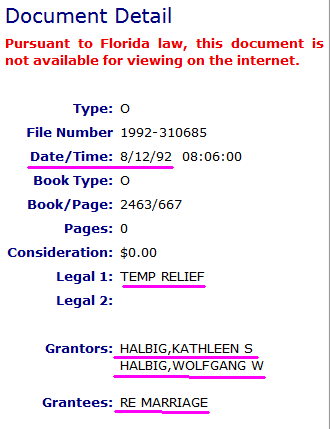 1992__________________
June 21, 1992: Schools, Parents Debate Proposed Anti-drug Policy  Wolfgang is quoted in an article about curbing teen alcohol use, foreshadowing thread that will become prominent in his own family life in the years to come:
School Board members want a countywide policy because they say there is serious alcohol and drug problem in the district. High school officials routinely snag fliers on campuses announcing keg parties and overhear stories in hallways about weekend drinking binges.
"I've taken about 35 fliers this year talking about a big keg party," said Wolfgang Halbig, assistant principal at Lyman High School in Longwood. "How do you prevent this? Do we turn our backs or get involved?"
Splitsville: Divorce between Halbig and Kathleen
August 12, 1992: A temporary relief is recorded relating to the marriage of Wolfgang and Kathleen Halbig. This indicates that a divorce has been initiated.
Investigators have been unable to 100% confirm any of the theories as to why the Halbigs ended their divorce at this point in time, however, it is noted in records that the divorce was initiated by Kathleen Halbig.
November 25, 1992, Stun Gun Could Mean Expulsion For Student
Another article from the Orlando Sentinel, this time about a student being caught with a "stun gun" at his school, quotes  "Lyman Assistant Principal Wolfgang Halbig." Halbig, who had no independently documented involvement with school security before this event, takes special note that a student called the school to report the danger:
Halbig, who once worked as a state trooper in Miami, said the electric device can really zap a person.
"It can really hurt you and cause serious damage," he said. "It's not something you bring to school."
He was heartened that the tip came from students. "They didn't want to see anyone else get hurt," he said. "There are a lot of good kids who are really getting sick of all this."
1993_____________
February 3, 1993: The Halbigs divorce.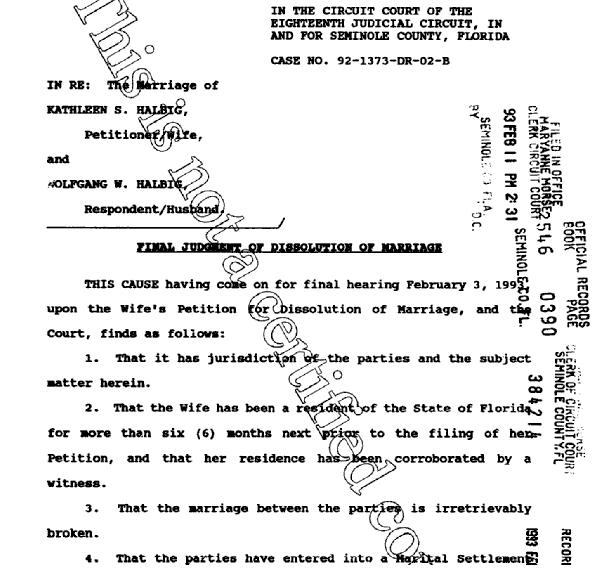 ---
Question #6 Wolfgang Halbig MUST answer: Why did you and your wife get a divorce? What happened? Did one of you have an affair? Was it because of your career? Your mental state? Why won't you answer these simple questions?
---
May 23, 1993: School District Studies Expulsion Alternatives – Article about alternative schools quotes Wolfgang, who is still identified as "assistant principal at Lyman High School" and a member of a task force that presented their recommendations to the school board that week. [LINK]
'These kids are becoming too aggressive. They aren't afraid to get in your face," said Wolfgang Halbig, assistant principal at Lyman High School and a member of the task force.
1993-1994 School Year: Wolfgang is transferred to Lake Mary High School, where he stays for one year. At some point during this year as Assistant Principal, Wolfgang meets Brian Marcum, a resource officer at the school who previously had worked for U.S. Customs.
1993-1994 THE TRUTH ACCORDING TO WOLFGANG:
Assistant Principal – Lake Mary High School, 1993-1994
2012 Wolfgang says:

1993-1994 THE TRUTH ACCORDING TO WOLFGANG:
United States Customs Customs Inspector, 1993-1994
• United States Customs Inspector, Orlando International & Sanford Orlando International
• Worked with foreign and American travelers  in inspection duties at International Airports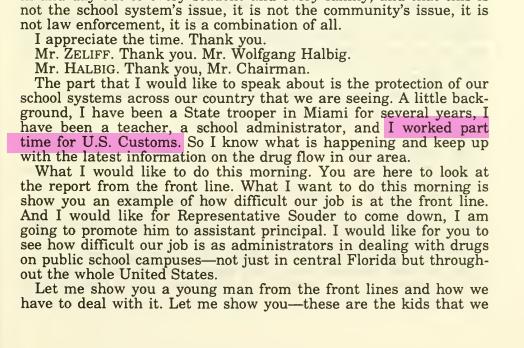 ---
Question #7 Wolfgang Halbig MUST answer: Why have you been touting your experience as a U.S. Customs Inspector for more than twenty years, when you know that it was an entry-level part-time job at an airport, lasting one year at most?
---