"I pray to God that I'm wrong. And if I'm wrong, I'm gonna march right into [a] mental hospital, I'm gonna enroll myself. Because, I'm serious, my wife is ready to divorce me. I've been married 42 years, I've got two beautiful sons, three granddaughters, my wife actually believes 'how dare you question those parents who lost children at Sandy Hook?' and I said 'how do you know they died?'" – Wolfgang Halbig, October 6 2014
2014________________
January 17 2014: Facebook comment from Wolfgang Halbig suggests that Sandy Hook has occupied the same place in his psyche that his obsession with President Obama had in years previous.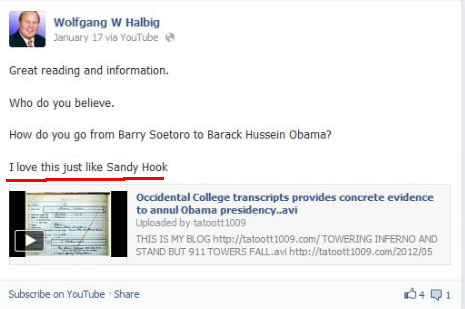 January 22, 2014: Wolfgang sends the following email (according to Professor James F. Tracy of Florida Atlantic University) suggesting that Lake County homicide detectives had paid him a visit at some point.
From: Wolfgang Halbig
To: Vance and Kehoe
January 22, 2014
Subject: Why would one of you send Homicide Detectives to my home and Threaten me with Felony Arrest by CT State Police?
Vance and Kehoe;
I do not know which one you of you had the idea that by having the Lake County, Florida Sheriffs Homicide Detectives show up at my house and threatened me with Felony arrest by the CT State Police if I did not stop asking questions about Sandy Hook Shooting.
You want me to stop asking questions in light of the fact that you both have yet to respond to any of my Ct Freedom of Information Act requests for the past 9 months, you both should be arrested for failing to comply with CT State Laws.
I have served honorably in the Military during Vietnam, I served as a Florida State Trooper in Miami, Fl, I worked as United States Customs Inspector at both International AIrports and Seaports.
I graduated at the top of my class at the Florida Highway Patrol Academy and that is why my class elected me as their class president to speak at our graduation.
What you two are doing is just unbelievable and I cannot believe that the law enforcement community across the United States is accepting the Danbury State Attorney report without the FBI Classified Investigative information included.
What in the world needs to be Classified by the FBI?
You stated that there was just one suspect and he shot himself in the classroom. Is that correct?

He shot 20 children and six school staff members. Is that correct?

He fired 153 rounds using both handguns and a .223 Bushmaster rifle as you stated. Is that correct?

He shot his way through the front glass door. Is that correct?

He parked his black Honda civic in the front parent drop off area with all four car doors wide open as Barbara Sibley a parent witness observed. Is that correct?

He left a 12 gauge Ithaca shotgun in the front seat of the black Honda civic. Is that correct?

He took approximately 11 minutes inside the school to kill 20 children and 6 school staff members. Is that correct?
So what has to be CLASSIFIED BY THE FBI?
THE WHY'S??????????????
Why NO Life Star Trauma Helicopter on Dec 14, 2012 since you use them in every active shooter drill when the news media covers your stories. WHY?

Why did you not allow the Paramedics and EMT'S inside the school after 11 minutes?

Who was the person who declared all 24 children and six school staff members legally dead? Who?

Why did it take over an hour to transport someone to the hospital?

Why do you have a 50 to 60 year old women being transported by ambulance as Natalie Hammond when Natalie Hammond is only 40 years old? Why pretend?

Why have 26 small Christmas trees behind the Sandy Hook Volunteer fire house on Dec 14, 2012 and then decorate them on Dec 15, 2012 after the shooting? Why?

Why have a Lt. of the Newtown Police Department with 24 years not leave his off duty job where he is controlling traffic at a construction work site until two hours after the shooting started? This is the best one of all. Why?

Why have a Licensed Registered Nurse who works at Sandy Hook Elementary School that Nancy Lana the mother of Adam Lana is a great and wonderful Kindergarten teacher at her school? Why does she lie on National News?

Why have a Police Chief State in the Newspaper article that his Lt. is not a first responder? Does anyone belief that for one-second especially when you have two Ct State troopers escorting a prisoner to the Danbury courthouse when hearing the active shooter call and respond to Sandy Hook. Why them and not the Lt.?
We have all these great Police Investigators and NO one questions the actions of Dec 14, 2012.
You both then did a great job and deserve an Oscar at the Oscars in Hollywood.
Do not send anymore Detectives to my home.
Please answer my questions if you can.
Thanks
Wolfgang W Halbig
352-729-2559
January 21 2014: "Bill Ford" (see: Sonitrol, 2003) posts a video titled "Childrens Safety Institute" to Youtube, promoting the same "Calming Sounds" and "Extra Hands" products that Wolfgang was marketing earlier in the year.  https://www.youtube.com/watch?v=Q2vHmPO7KrU
January 23rd 2014: Wolfgang falsely claims that it was his "responsibility to learn englsih" when he came to the United States. Despite this, he consistently admits, when under oath, that he did not learn english properly and could not read, passing thru the public school system thanks only to his ability to play football.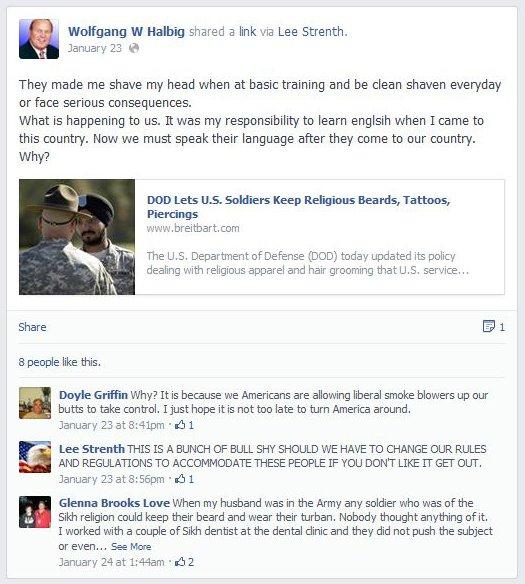 January 24th, 2014: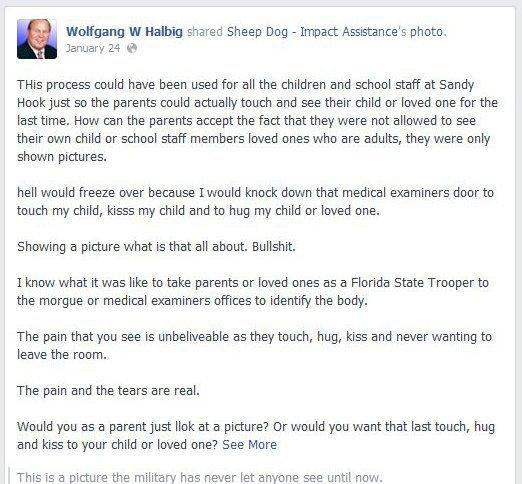 January 27, 2014: Wolfgang expresses annoyance at "all the racial charges by blacks on a daily basis."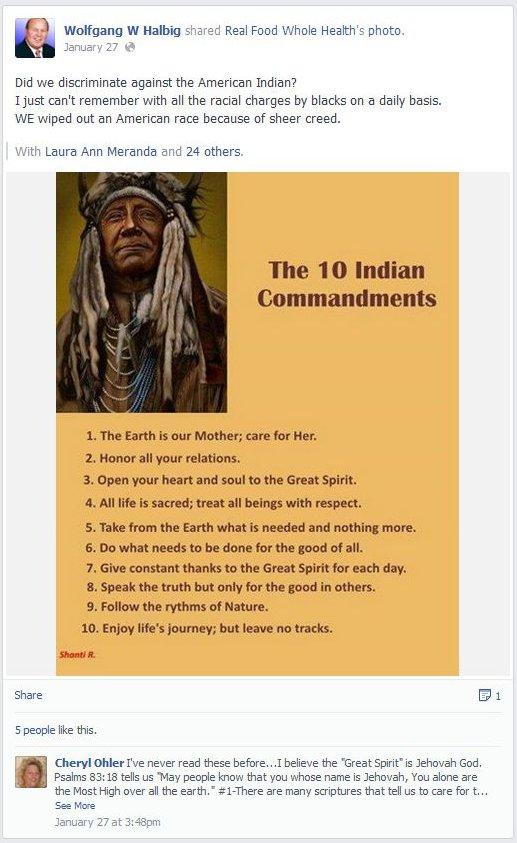 February 3, 2014: Wolfgang reflects on the consequences of alcoholism and drug addiction after the death of actor Philip Seymour Hoffman. He also reveals several facts about his upbringing and family: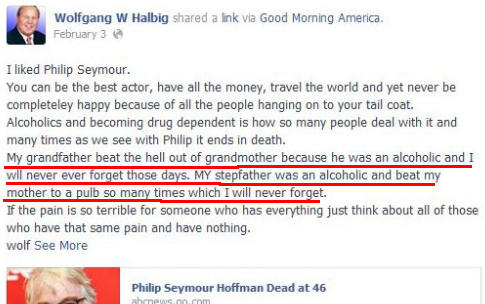 The same day:
February 10, 2014: Wolfgang submits a Freedom of Information Act Request. In it, he identifies himself "the Chief Investigator for the Children's Safety Institute that protects Children with Autism." and indicates that the Sandy Hook shooting is a factor in his professional life.
From: Wolfgang Halbig [mailto:[email protected]]
Sent: Monday, February 10, 2014 9:35 AM
To: FOIA OIG
Subject: PLease process as quickly as possible sorry for the urgency.
Importance: High
Freedom of Information Act Request:
Can you please provide me with the F.E.M.A. Sandy Hook School Shooting NIMS or ICS evaluations.
You had over 8 F.E.M.A evaluators on site during the shooting since you could see their I.D badges with pictures provided by observers from the Catholic Church.
NIMS and ICS is your brainchild which requires every school district to have all staff members trained in the NIMS or ICS Emergency Response protocols.
So I cannot imagine that after millions and millions of tax payer dollars that FEMA would not want to evaluate one of the most heinous and horrendous crimes in US school history.
How did NIMS work or How did the ICS command Center work at Sandy Hook on Dec 14, 2012?
It show clearly show who the stupid person in the command center was that did not request the Trauma Helicopters for children and school staff's urgent medical care.
It should clearly show who the stupid individual was at the command center who did not allow the paramedics or the EMT'S inside the Sandy Hook Elementary School to provide immediate medical care to those clinging to life.
It should show who the stupid individual at the command center was who declared all 25 children and adults legally dead within the first 8 minutes of the school shooting.
It should show pictures of this massive school evacuation of 500 children and school staff. I am sure that the command center would have documented that massive evacuation.
It should show in the evaluations as to why the first police units parked a 1/4 of a mile away from the school when first responding and waiting for backup. That is not the first responder new protocols is it?
It should show why a 24 year veteran of the Newtown police department on an off duty work detail at a construction site not respond to shots fired at an Elementary School until 2 and a half hours after shots are fired. He stayed at the construction site. Is that a new FEMA directive ?
When are parents not allowed to see their dead children at the morgue? Is that a new FEMA directive?
Please provide all of those answers as quickly as possible since I am the Chief Investigator for the Children's Safety Institute that protects Children with Autism and now since this shooting has cast a malicious stigmatizing effect on all children with Autism as potential killers if not supervised properly, this report is vital.
Thank you and please mail your FEMA evaluation to 25526 Hawks Run Lane, Sorrento, Fla 32776
Wolfgang W Halbig
352-729-2559
February 11, 2014: Wolfgang Halbig e-mails American Free Press associated writer Deanna Spingola:
He also comments on a facebook link to the show: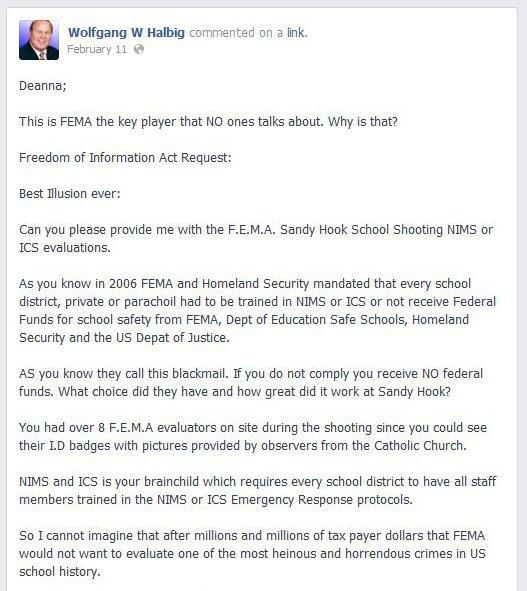 According to Spingola, Halbig contacted her at 6:22am that day, and later called into the show as she was presenting the first part of a critique of a "Sandy Hook Hoax" documentary, which produced by an individual calling herself "Sofia Smallstorm":
On Tuesday, February 11, 2014 Wolfgang Halbig, who had never corresponded with me before, emailed me at 6:22am (CST). See those emails below. Later that day, Halbig called into my radio AFP program which broadcast from 2-4pm (CST). On that program, I presented Part 1 of my critique on Sofia Smallstorm's video: Sofia Smallstorm Unraveling Sandy Hook; Hear the audio of that call. On that same day, Dave Gahary of the AFP uploaded a podcast of an interview that he conducted on 2/4, School Safety Expert Threatened for Questioning Sandy Hook, which went viral throughout the Internet. How did it go viral – the same way the the 27-second video claiming Robbie Parker was an actor went viral. See more here                         
http://www.spingola.com/censorshipoperation.html
Also on February 11th, 2014: American Free Press writer Dave Gahary interviews Wolfgang. This interview gains traction online, and becomes the avenue through which most early Hoaxers are introduced to Halbig. http://americanfreepress.net/afp-podcast-school-safety-expert-threatened-for-questioning-sandy-hook/
Also on February 11th 2014: "Bill Ford" uploads three videos to his Youtube channel, all having to do with Children's Safety Institute. The first is a demonstration of  the "extra hands" product: [LINK]
The second video is a slideshow narrated by Wolfgang: https://www.youtube.com/watch?v=BEsm_OTa_UY
The third is footage of a presentation by Wolfgang, pitching the "Calming Sounds headset" along with "Extra Hands." https://www.youtube.com/watch?v=hIObdjoCFsY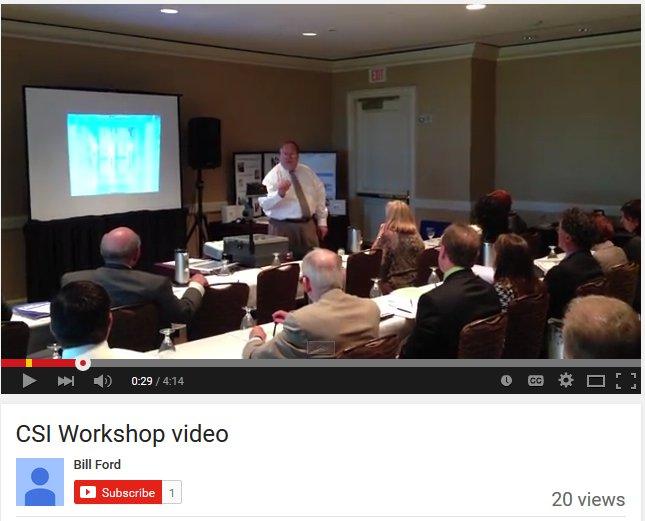 February 13, 2014: Wolfgang promotes his interview with Gahary.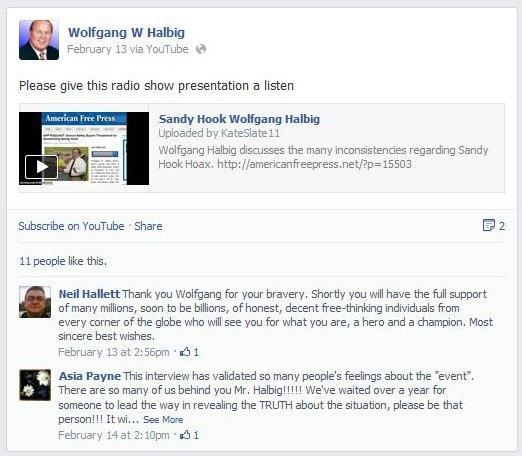 February 14, 2014: Wolfgang complains of his "supposed friends" in Florida who are apparently not willing to help him with his quest to get involved with Sandy Hook.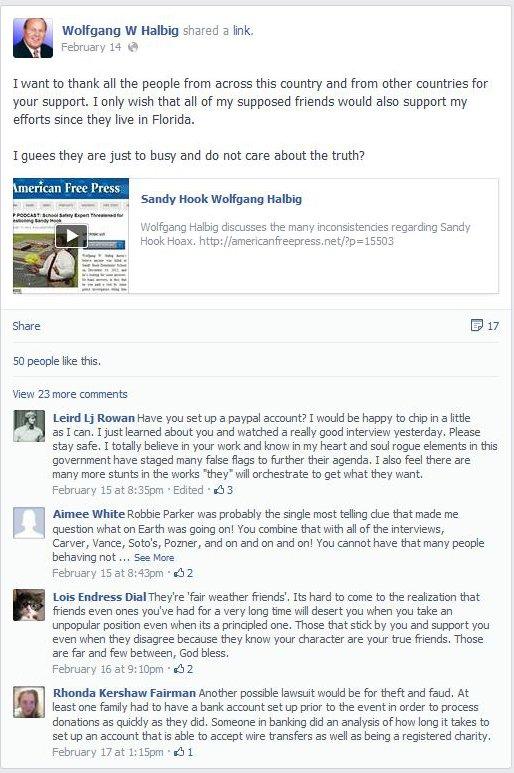 February 18, 2014: Wolfgang cuts an interview short, claiming that law enforcement have arrived at his home (the third visit overall, and the second in 3 days.https://www.youtube.com/watch?v=m0ThvL55R9I
The same day, Wolfgang claims to have emailed Senator Marco Rubio regarding the Sandy Hook investigation. When he receives a dismissive response, he uses profanity several times: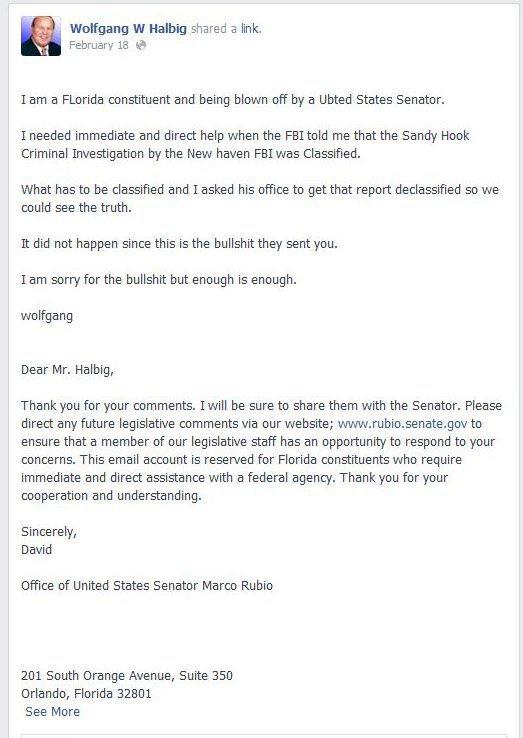 February 19, 2014: Professor James Tracy (of Florida Atlantic University) publishes a story "Wolfgang Halbig's Quest for Truth", reprinting several emails Halbig sent over the past year.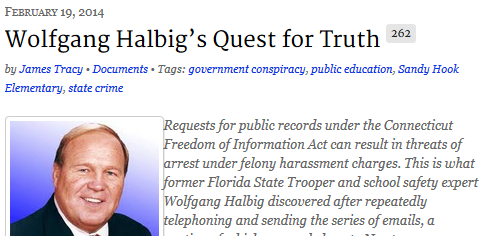 February 20, 2014: Halbig claims on facebook that the Lake County Sheriff's Office paid him a visit again, this time in uniform. Wolfgang declares "let the games begin in solving the Sandy Hook Illusion" and announces the Sandy Hook Justice Trust Fund. He starts collecting donations.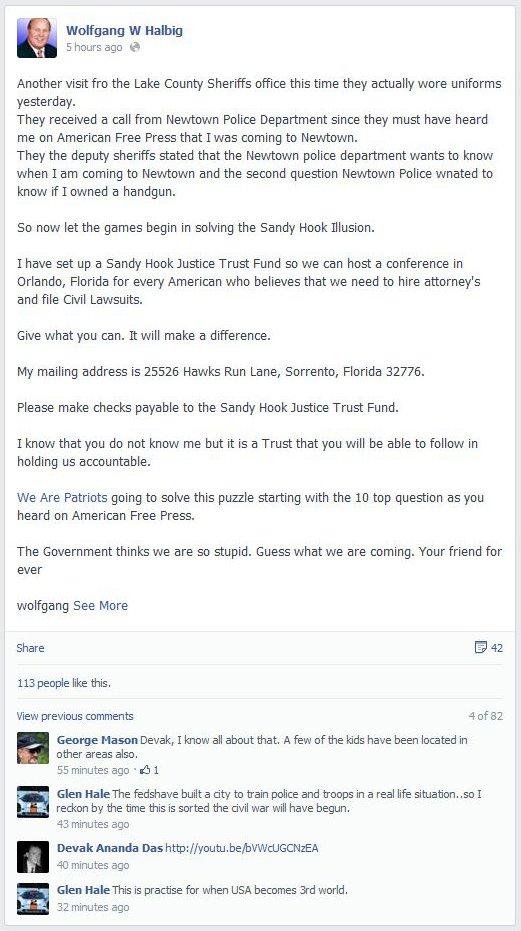 February 20, 2014: Jim Fetzer, a Florida-based Professor, calls police expressing concern for Wolfgang Halbig after he had "not heard from him in a couple days," suggesting regular and expected contact between the two at this point: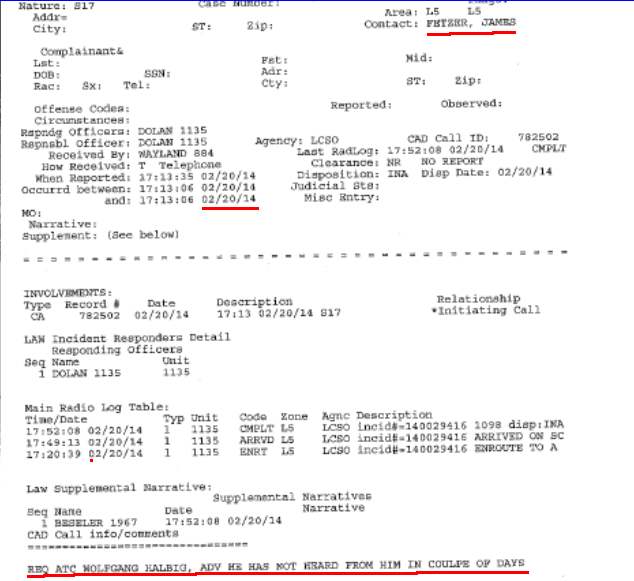 February 24, 2014: Snapshot of Halbig's facebook profile, going back to early January same year:
March 1, 2014: Wolfgang makes the impossible claim that he, in his single year as a Florida State Trooper, personally witnessed over 145 autopsies. http://archive.is/PMolV
March 4 2014: American Free Press writer Deanna Spingola describes further interaction with Wolfgang Halbig through her radio show:
On Tuesday, March 4, 2014, I interviewed Wolfgang W. Halbig on my RBN program, MP3; Program Notes On that program I asked him if he was ever a "homicide investigator" but he avoided the question. When he called into my program on 2/11, he claimed to be a "homicide investigator." The one thing that I note, whether it was during the "debates" or on a radio show, those who believe that Sandy Hook was a hoax maintain their views about the issues, even when presented with contradictory evidence or when someone answers their questions. Perhaps these people are not really looking for answers. They just wish to impose their views on the population. People who research regularly change their minds as they discover additional data. Change agents do not do that.
March 7, 2014: Wolfgang posts a message to his facebook profile, claiming that his "best business partner" had "quit his job" with CSI, and that thus the company would cease to be: http://archive.is/hizyE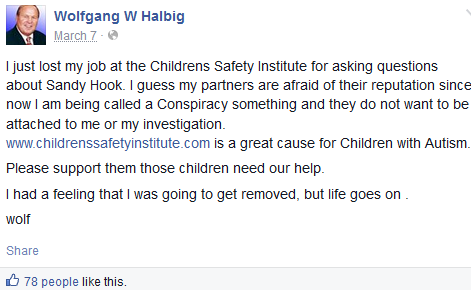 In a 2015 radio interview with Florida Atlantic University Professor James Tracy, Wolfgang says he lost his business "Children's Safety Institute" when he had just finished conducting a "workshop" at "Pittsburgh conference" for children with autism and aspergers. (See: July 2013) [Link to interview]
March 11, 2014: A comment from "Wolfgang Halbig" on an unofficial page for Abilene Christian University suggests her is learning a "new vocabulary": http://first-thoughts.org/on/Abilene+Christian+University/
To all you trolls and Shills whatever that means since these are new words in my new vocabulary.please check me out with all those I have worked for you might just learn something new called the truth. Wolfgang W. Halbig 25526 Hawks Run Lane Sorrento, Florida 32776
March 17, 2014: Gofundme temporarily shuts down donations to Sandy Hook Justice, demanding more information from Wolfgang about his activities.
The fund is restored soon after.
March 19, 2014: Sandy Hook Justice has raised over $10,000.
https://web.archive.org/web/20140319010647/http://www.gofundme.com/7jb3ww
March 26, 2014 Comments left by a username "just wondering" contain alleged specifics about who the deputies were that supposedly threatened Wolfgang in December 2013:
It seems when Wolfgang Halbig started asking questions about SANDY HOOK and making freedom of information requests Lauren Ritchie's friend Sheriff Gary Borders sent a total of four of his Gestapo members to Halbig's home to tell him to stop asking questions of CT officials. Halbig identified the first two Deputies in Dec. 2013 as Clay Watkins and Chris Huskey. He said they told him if he didn't stop investigating SANDY HOOK "bad things were going to happen!" He has not released the names of the last two.
Check out Wolfgang Halbig's efforts to expose the SANDY HOOK HOAX for what it is on his face book page at SANDY HOOK JUSTICE.
Also, the people of Lake County need to realize it was their sheriff Gary Borders who sent his goons out to stop Wolfgang Halbig from seeking the truth about Sandy Hook. Apparently this sheriff is getting his orders straight from Washington.
May 6, 2014: Wolfgang Halbig's visit to the Sandy Hook Volunteer Fire Department's firehouse results in police being called. The police determine that the firefighter who got into a confrontation with Halbig had not committed assault, despite Halbig's claims. Video evidence is key in exposing Halbig's latest hoax attempt.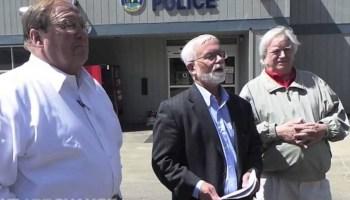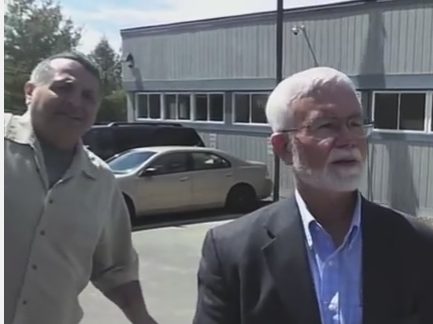 Also on May 6, 2014: Wolfgang stops by the Newtown Police Department, with his associate Jim Fetzer (as well as Dave Gahary and others.)
Also on May 6, 2014: Newtown school board greets Sandy Hook skeptics with silence – News-Times article reports on Wolfgang Halbig (along with Jim Fetzer) attending a Newtown School Board meeting, and being met with patient contempt from the townspeople:[LINK]
But board members refused to take the bait, remaining silent throughout presentations by Halbig and several of his supporters who followed him to the microphone. The audience, which included First Selectman Pat Llodra and several other town officials who had come to support the board, also stayed silent.
The only public response came from Newtown resident Jim Fitzpatrick, who was the last to speak. Unable to let this group have the last word, he said, "It's a shame to see this circus come to town, and I'm offended by the people who have come, and these conspiracy theories. Newtown has conducted itself wonderfully.'
Wolfgang stops at several other (confirmed) Newtown addresses before returning to Florida.
May 28, 2014: Wolfgang receives an email from Len Pozner: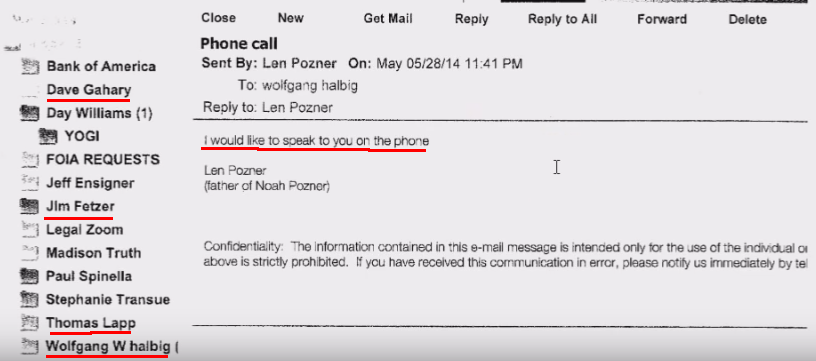 May 31, 2014: Wolfgang Halbig calls police, claiming that Lenny Pozner "tried to come to his house last night" but the security guard "wouldn't let him through."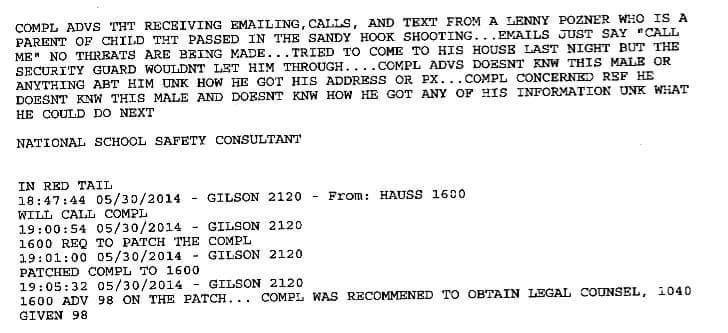 May 31, 2014: Wolfgang once again calls police, making allegations of "harassment" on the part of Newtown parent Lenny Pozner. The responding officer notes that "SUBJ IS S20" – (Signal 20, code for a mentally ill person):

June 3rd 2014: Wolfgang again calls police to report "harassment," claiming that he "tried to file a report days" ago, but deputies would not come to his home.
Eventually, an officer does come to the Halbig residence to take a statement.

Wolfgang tells the reporting officer about the email received, as well as "two telephone calls, which he believes are from Mr. Pozner," though he is not able to provide any phone number from which the calls were coming, and Wolfgang never answers whatever these alleged calls were, and the caller did not leave any message: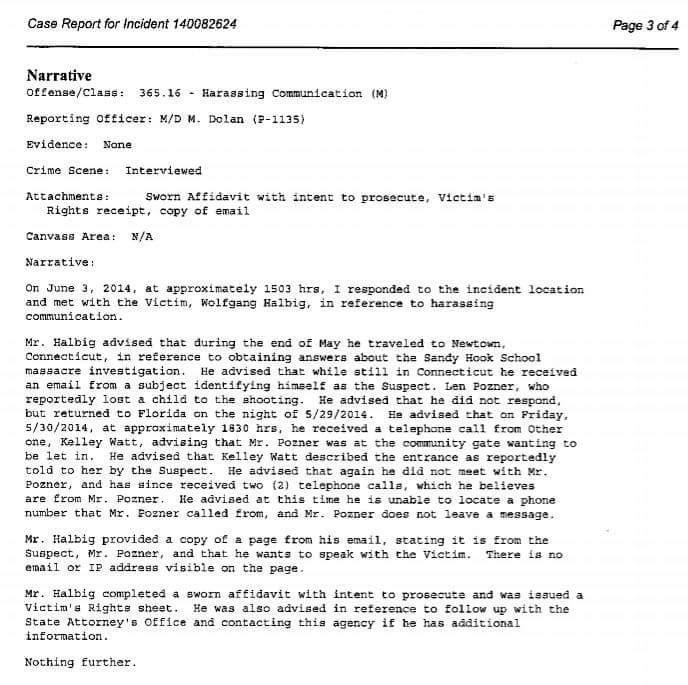 July 3, 2014: Wolfgang remarks in his status that he has "One day left on facebook"
July 30, 2014: An individual identifying themselves as William Brandon Shanley writes a public letter to "Leadership of Senate and House Judiciary Committees Calling for Joint-Hearings", associating himself with Wolfgang Halbig and Jim Fetzer and desiring to expose the "Sandy Hook Massacre Hoax."  [LINK]
The Honorable Patrick J. Leahy, Chairman
The Honorable Chuck Grassley, Ranking Member
United States Senate Committee on the Judiciary
 224 Dirksen Senate Office Building,
Washington, D.C. 20510-6050
re: Cover-Up in Connecticut: The Sandy Hook Massacre Hoax
Dear Sirs—
My name is William Brandon Shanley. I'm a New London-based filmmaker with experience in TV-based pseudo-reality research in presidential elections and an editor of books on quantum physics. I'm also writing on behalf of Wolfgang Halbig, a former Florida State Trooper, school administrator with 36 years of experience (up to Vice Principal and Principal) and a nationally recognized school safety expert, and, James H. Fetzer, a former Marine Corps officer, McKnight Professor Emeritus at the University of Minnesota.
August 21, 2014: Connecticut's Sandy Hook Advisory Commission receives a letter from a man identifying himself as William Brandon Shanley, and claiming that that he represents Wolfgang Halbig's organization, Sandy Hook Justice, along with team member Jim Fetzer [LINK]:
 Letter from Sandy Hook Justice to Sandy Hook Advisory Commission August 21, 2014
FOR IMMEDIATE RELEASE
Contact: William Brandon Shanley, New London, 860-857-2042
From: William Brandon Shanley and Sandy Hook Justice
To: Sandy Hook Advisory Commission
August 21, 2014 via Commission website
I request that this letter goes to all members of the Sandy Hook Advisory Commission.
I am a member of a team of scholars, journalists and researchers named Sandy Hook Justice:
* Dr. James H. Fetzer, Professor Emeritus University of Minnesota Duluth and editor and journalist for Veterans Today;
* Wolfgang Halbig, former Florida State Police officer, school administrator and national school safety specialist;
* William Shanley, a non-fiction filmmaker and author, with news analysis specialty since the 1980 presidential election…
The letter goes on to list alleged evidence that "Sandy Hook Justice" wishes to present to the commission, which would purportedly establish that the shooting was a "hoax."
September 22, 2014: Sandy Hook Justice has raised over $27,000 (not including donations made via check or money order.)
 October 6, 2014: Wolfgang Halbig delivers a lengthy speech to an "Oathkeepers" meeting in Long Island, New York. While in the state of New York for this visit, it is documented that Halbig meets with numerous other individuals involved in the "Sandy Hook Hoax" operation.
During his speech, Wolfgang points out that it is "cruel" to use children and teachers as "props" for an agenda, confirming that he is fully aware of the consequences of his hoax.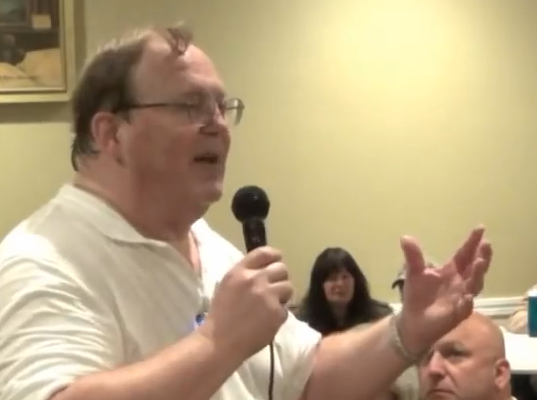 "I pray to God that I'm wrong. And if I'm wrong, I'm gonna march right into [a] mental hospital, I'm gonna enroll myself. Because, I'm serious, my wife is ready to divorce me. I've been married 42 years, I've got two beautiful sons, three granddaughters, my wife actually believes 'how dare you question those parents who lost children at Sandy Hook?' and I said 'how do you know they died?'  – Wolfgang Halbig, October 6 2014 
October 9, 2014: Wolfgang Halbig's Sandy Hook Justice Gofundme account is terminated. Halbig would later claim that the fund had grown in excess of $31,000 USD.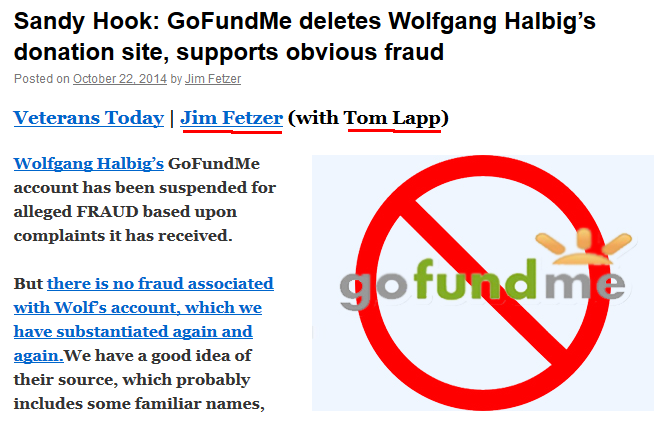 November 19, 2014: Halbig conducts a phone interview with an individual calling themselves "Professor Doom1" (TAV). In it, Halbig complains about his Gofundme account getting shut down, and reveals the Sandy Hook Justice legal strategy: [LINK]
"I had this account Gofundme, and they shut it down. I mean, I'm gonna figure out who did it, because I got a copy of the letter that was written to the president, CEO, and uhh Chief Financial Officer of Gofundme calling me a fraud. I mean let me tell you what, they just butchered me. Okay?
So, I'm hiring an attorney. As a matter of fact, I got a meeting in the morning, I'm going to file a lawsuit in federal court against Gofundme, and try to get a federal judge to issue a John Doe subpoena, uhh, finding out who all the people are that have filed letters of complaint against me, that are calling me a fraud, and — I mean I want to know who these people are. Then, we're going to turn it around, and we're going to file the lawsuits against the people who are calling me a fraud, and got Gofundme to shut me down. "
He goes on to claim that the closure of his Sandy Hook Justice fund has "bothered" his family, adding that "my wife is really upset."
December 15, 2014: William Brandon Shanley begins filing a bizarre series of lawsuits, nearly incomprehensible in their language and demanding absurd sums (in excess of one trillion dollars) over the Sandy Hook shooting. The lawsuits rely heavily on "Hoaxer" articles written by Professor Jim Fetzer: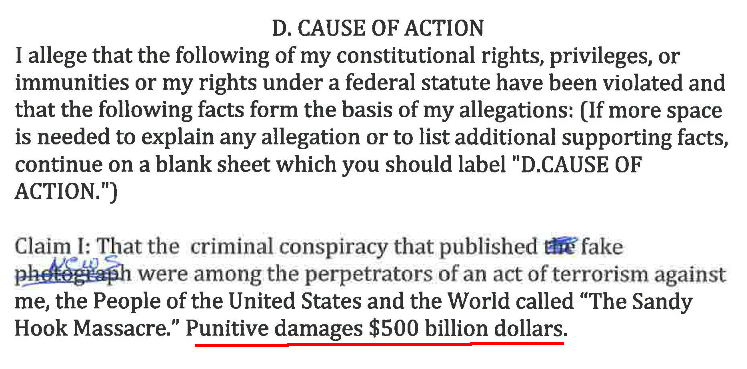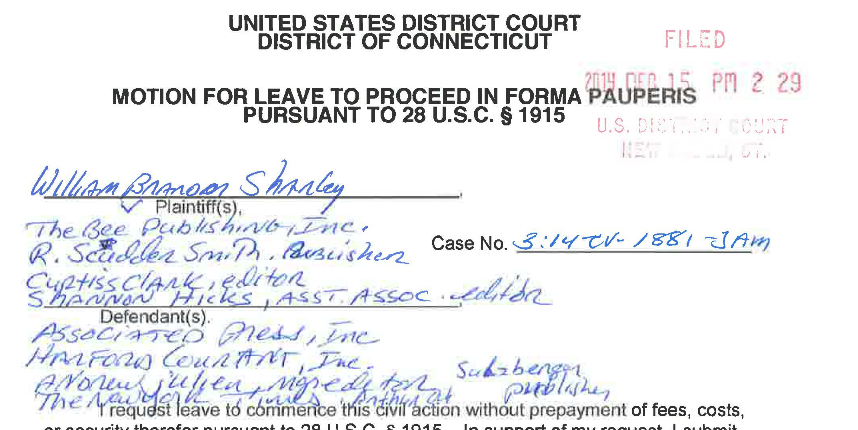 December 25, 2014: William Shanley issues a press release, announcing the flurry of lawsuits to expose the Sandy Hook "hoax." The same document proclaims that Jim Fetzer and Wolfgang Halbig will be called as expert witnesses in the case:
After exhaustive research, the good news is that overwhelming evidence reveals that no children or teachers died at Sandy Hook two years ago. For relief, I have filed lawsuits against the media in US District Court in New Haven for Fraud and Terrorism. Here is an example of our abundant evidence, Exhibit D: The Connecticut State Police dash cams record no evacuation of children from school at critical moments:https://www.youtube.com/watch?v=rqcaaE6aFX8 — Smoking Gun evidence no children died at Sandy Hook."
Attached is a photo staged by the Newtown Bee, a wider view of that action being staged on a different day that the emergency altogether, and a sampling of front pages that terrorized the world with the fake photo.
Mr. Shanley is the producer of The Made-for-TV Election starring Martin Sheen that analyzed media coverage in the tectonic Carter-Reagan election of 1980. He is also the author of books on quantum physics, including Alice and the Quantum Cat (2011).
Dr. James Fetzer, whose 35 articles on Sandy Hook for Veteran's Today qualify him for the highest investigative journalism awards, and School Safety Consultant, Wolfgang Halbig, whose investigative expertise as a former Florida State Police officer, and loving attention as a former principal, makes this case's particulars comprehensible to all, will be called as expert witnesses.
It is their scholarship and bravery that makes these Complaints possible for the shear breadth and scope and detail of evidence they have assembled. Hundreds of independent researchers have also made this day possible, and Mr. Shanley claims they will be tracked down and rewarded heartily for their bravery and mindfulness of America.
December 29, 2014: In another interview with "Professor Doom1", Halbig confirms that he did indeed have contact with William Shanley, and knew of the planned lawsuits, but had cautioned Shanley and several other persons, one of whom is known to be Professor Jim Fetzer, not to go through with them:
"PROFESSOR DOOM1": [William Shanley] and Jim Fetzer seem to think that they are going to supercede you somehow in, uh, pursuit of a lawsuit, and they were going to be using you for some kind of, uh, professional technical witness or something?"
 HALBIG:"I told them personally, each one of 'em, do not file the lawsuit. You're messing everything up that everybody has worked on together. I – I begged them not to file the lawsuit."
Wolfgang Halbig then takes great care to distance himself from William Shanley, while admitting that the two were at one time connected in some way, which in turn involved Jim Fetzer in some way.
"I have never met this person, I do not know this person [Shanley], uh, he was introduced to me by Jim Fetzer. Uh, the guy asked me for a donation one time because he doesn't have any money. So, I didn't take it out of the donations. I actually gave him a personal check out of my account for three hundred dollars. I didn't want to use other people's money to help this guy for whatever reason Fetzer said I should. But, I have disconnected myself from him. I think that — I don't know what Fetzer and he are up to, I think it's going to ruin everything we have worked for, and I'm very disappointed in their actions."
Halbig goes on to express frustration with Professor Jim Fetzer's implied shift in loyalties:
"I don't know what in the world's happened to Jim Fetzer. You know, I trusted that man, you know… from the very beginning, and then all of a sudden, he's on a whole different tangent. I don't – I don't… I don't know what their game plan is."