2012________________
THE TRUTH ACCORDING TO WOLFGANG:
Executive Director for the Children's Safety Institute: 2012-current
www.childrenssafetyinstitute.com
January 5, 2012: "Recording, preliminary autopsy shed new light" – Wolfgang is quoted for an article regarding the use of deadly force in schools, after police shoot and kill  17-year-old Jaime Gonzalez Jr. after he is spotted with a gun on the campus of Cummings Middle School. Halbig is critical of the officer's decision to use deadly force.
http://www.brownsvilleherald.com/news/valley/article_3ab22071-3d3a-566c-a5b2-70cf374b4fce.html
Alternatives?
Wolfgang Halbig, executive director of the National Institute for School and Workplace Safety, based in Heathrow, Fla., believes the officers could have found another way to resolve the issue rather than shooting Gonzalez.
"I hate playing Monday morning quarterback," but there could have been another way to handle the situation, Halbig said in a telephone interview.
Halbig, a retired police officer and school safety expert, said from reading media reports it appeared that Gonzalez was the only one in imminent danger. He believes if Gonzalez had planned to hurt any other students, he would have immediately shot them while inside a classroom.
Halbig said he has trained about 3,000 school police officers nationwide about what to do when confronted by a student with a handgun.
"I can't believe they both fired (at Gonzalez)," Halbig said. "He was not a threat to anyone but himself. The rule for law enforcement, whether you are on the street or on the school campus, is to look at all your options. … When you shoot a 16-, a 15- or a 14-year-old in the leg, trust me there is pain. But to take a life. … A headshot is a kill shot. Is that what we are all about?"
January 6, 2012: Wolfgang is interviewed by a local blog regarding the Gonzalez Jr. shooting, and largely walks back most of his claims just a day after he made them. He shows a clear awareness that initial reports and media reports of shootings can be wildly inaccurate. He urges police officers responding to a school shooting to exercise restraint and patience. He also apparently spells his own last name wrong.
http://rrunrrun.blogspot.com/2012/01/was-there-another-way-to-solve-problem.html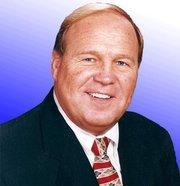 By Wolfgang H. Halgib
I would like to respond and clarify to those who responded to this newspaper article. It was not easy to respond to a school shooting in which a middle school student was shot to death. Yes, I was In the comfort of my home when speaking with the news reporter.
I would never respond to an incident in which police officers had to use deadly force unless I walked in their shoes as a former Florida State Trooper working in Miami Florida with gun drawn and having to make a difficult choice.
  My comments in this newspaper article were solely based on the information provided to me by the media and law enforcement. At 1st even they get the information wrong when providing information to the public as quickly as possible.
  What questions would you be asking if that was your child when you received a call stating that your child was just shot and killed while in school?
  My comments are only made because these school shootings by school police officers in such a quick and decisive manner causes me extreme concerns.
  The last case that I worked on was when a SWAT team member used a scope rifle and shot and killed a middle school student while he was isolated and contained in the boys bathroom with no threat to anyone else but himself. This issue was resolved within a 35 min. time frame when the gun was 1st reported, it was a pellet gun.
  The SWAT team member who shot and killed a young boy stated that he was in fear of his life, how is that possible when you're looking through the scope from behind the wall?
  Please remember that this young man had already entered the classroom and hit another student in the face, he did not shoot that student or anyone else in the classroom or while walking on the campus heading to the hallway where he was isolated since all the other students and teachers and staff were locked down in their classrooms with lights out.
  I took for granted that the police officers used their handguns, now finding out that they use their rifles causes me even more concern and only hope that those who responded on the comments understand that this is not to criticize but to find other options quickly before taking your life.
February 1, 2012 – Wolfgang Halbig contributes $250 to Republican presidential nominee Mitt Romney's election campaign, ROMNEY FOR PRESIDENT, INC.
Like the previous two recipients of Halbig's donations, this candidate is opposing Barack Obama.
http://docquery.fec.gov/cgi-bin/can_ind/P80003353/3/H/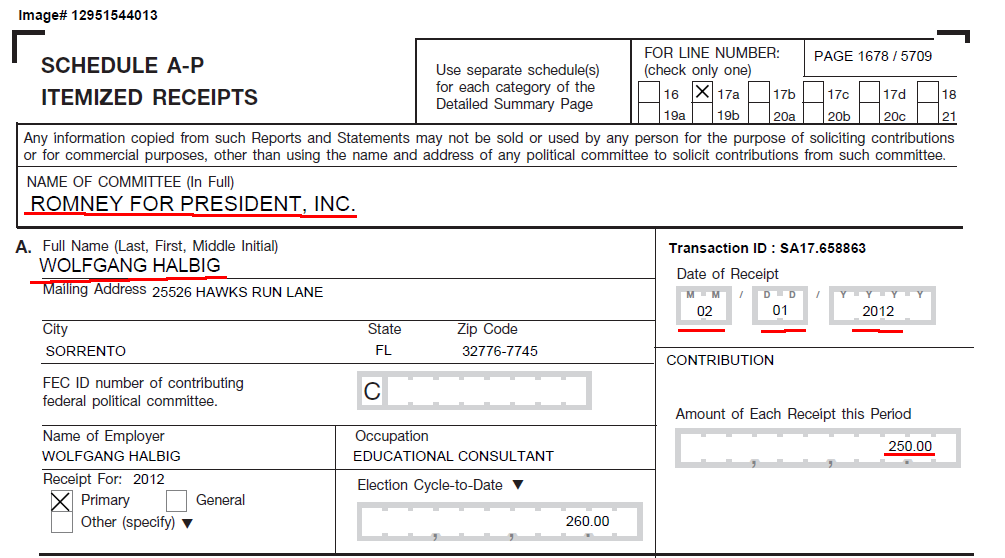 February 8, 2012: Separate investigations launched into Volusia charter school – Wolfgang is quoted in an article about charter schools in Florida. It is claimed that Wolfgang "opened the first charter school in Florida." NOTE: records suggest the first Florida charter school was Liberty City Charter School, where Halbig was never employed, so Wolfgang's basis for making this claim is unclear. [LINK]
The Imani School was $400,000 in debt. Ardonnis Lumpkin was an advisor for both schools.
Volusia County Public Schools and the state Department of Education are looking into the school.
The school district is not calling this an official investigation, but it did confirm it has been in talks with top leaders from the charter school because of this situation.
Wolfgang Halbig opened the first charter school in Florida. He said there are good charter schools, but state laws make it easy for schools to spend money with little oversight.
"You see it over and over throughout the state. Have one charter school, they close down, and all of a sudden open up and leave the first school with a half million in debt. They change the name, but the players don't change," Halbig said.
February 21, 2012: replies to the thread "Re: Are Teachers Behind in Higher-Order Thinking Skills?"  the forum "Ask a Question" on Education Weekly Forums. He's banned, so the post is gone.
February 28, 2012: Why we miss school shooting warning signs – Wolfgang comments on a CNN news story about school shootings. http://globalpublicsquare.blogs.cnn.com/2012/02/28/school-shooting-warning-signs/ 
Wolfgang Halbig
Do you see how every one from the police department to the school superintendent talk about what a great response time they had and how they trained for such an event?
If that was what you call a School Lockdown then this school district has serious concerns for the future.
School Safety or Safety has a definition that all school boards and school superintendents must do. It is what do we do on a daily basis to reduce the safety risks to as low as possible.
School Security are the tools that school boards and school superintendents adopt in order to keep those safety risks to as low as possible. There is not one school district that can promise a parent that his child will be 100% percent safe from harm. There are NO gurantees.
Someday those who are really interested in looking for school safety solutions will change the way they have been brainwashed by the United States Department of Education Safe and Drug Free Schools.
Does anybody not see what is happening that could have or should have been prevented.
Now the experts from colleges who have not worked in our public schools since who knows are going to tell the school district about school shootings.
Please let's start a true discussion about school safety and how to reduce to safety risks on a daily bases so others will not get seriously injured or killed.
March 2 2012: Wolf starts the thread "LGTB BULLYING" to the forum "Ask a Question" on Education Weekly Forums. He's banned, so the post is gone. There were no replies.
March 15 2012 – Posts to the thread "Education Technology" on Education Weekly. Here, or at some time after here  (but not before) his account was banned.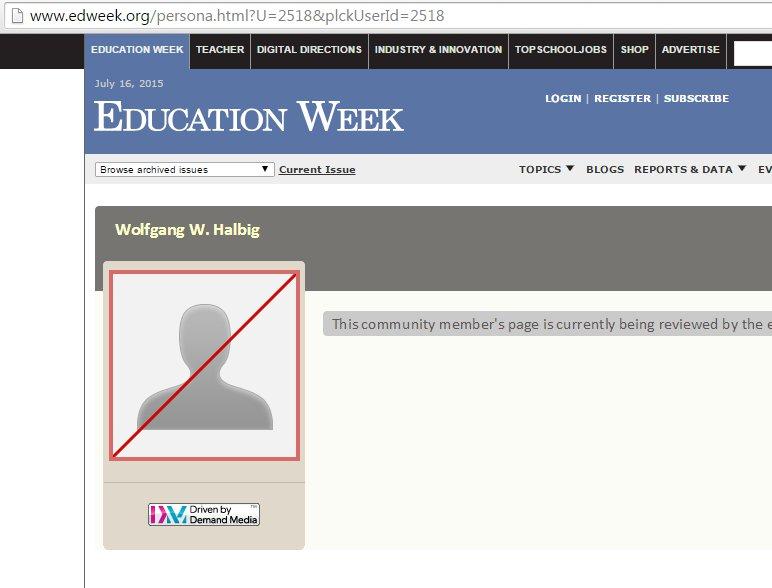 March 27, 2012: Trayvon Martin leaks claim teen attacked first, was suspended for pot – Wolfgang Halbig is quoted in News 13 story about the Trayvon Martin shooting in Sanford (Halbig was an Assistant Principal at Sanford Middle School in 2005, and was a teacher there in 2011, but is credited simply as a "former Miami state trooper," a job he left well over three decades ago.) [LINK]
Coming to the defense of Sanford police was former Miami state trooper Wolfgang Halbig, who made it a point to remind reporters that an initial Sanford police report shows Zimmerman looked to be arrested for manslaughter.
Somewhere along the line someone at the department decided that Zimmerman was acting in self-defense.
"When you see a dead body lying there, especially when it's a child, it affects all of us," Halbig said.
March 28, 2012 Was Zimmerman Nearly Charged On Night Of Shooting? – A news story from WESH Orlando, again covering the shooting of Trayvon Martin by George Zimmerman, quotes Wolfgang, now credited as a "law enforcement expert." His claims are immediately discredited, by actual law enforcement. [LINK]
SANFORD, Fla. —George Zimmerman, the volunteer neighborhood watchman who shot and killed Florida teen Trayvon Martin, was nearly charged with manslaughter the night of February 26.
That claim comes from a law enforcement expert, Wolfgang Halbig, who reviewed the Sanford Police Department's report.
Halbig said police officers recommended the manslaughter charge and that it was the State Attorney's Office that decided not to move forward with the charge.
"Whether you are a sheriff or a police chief, the state attorney is the one who decides," Halbig said.
Sanford police officials said they object to Halbig's claim because say the charge was not a recommendation; rather, it was something to be reviewed by the state attorney.
April 13 2012: At 2:50pm, Wolfgang Halbig runs a red light while driving westbound on Howell Branch Road, at the intersection of Temple Trail in Winter Park, Florida. He is driving a 2006 Toyota pickup. NOTE: Since Wolfgang's son drove a truck at this time registered to his father, it's possible that this was Erik driving.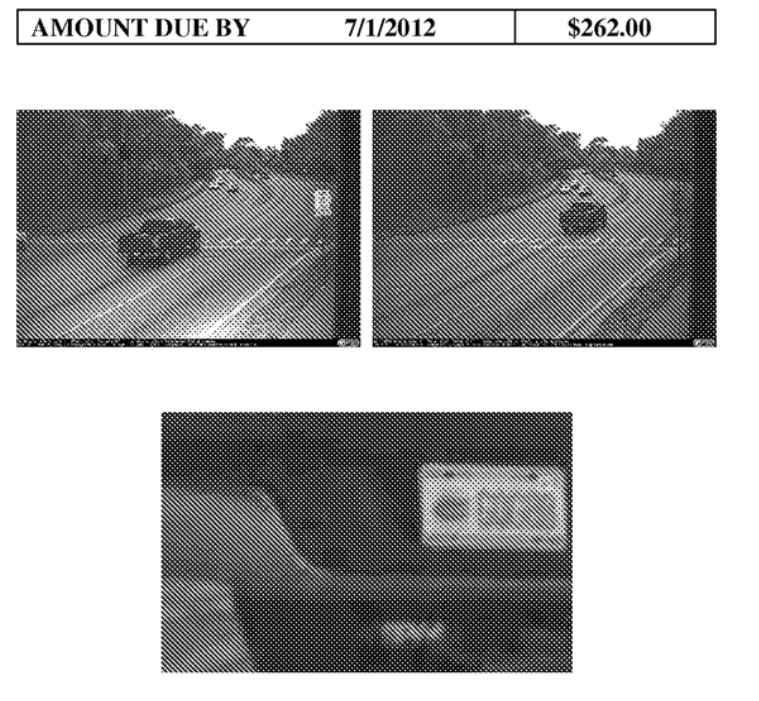 Friday May 18, 2012: Wolfgang is deposed for his fall lawsuit, WOLFGANG HALBIG vs. CITY OF APOPKA.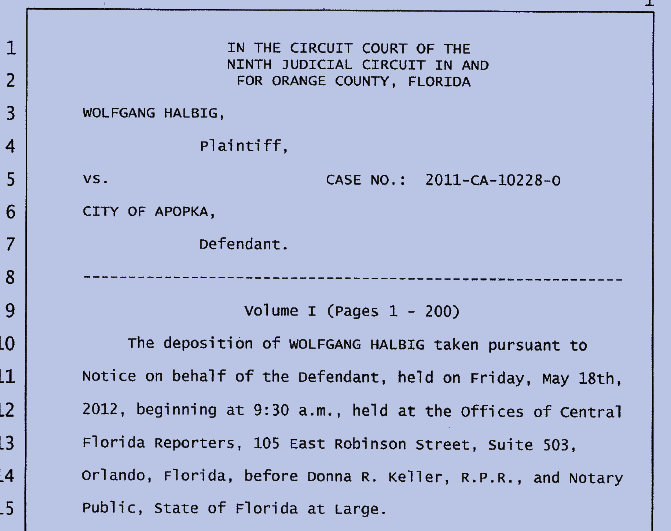 During the deposition, he loses composure at several lines of questioning: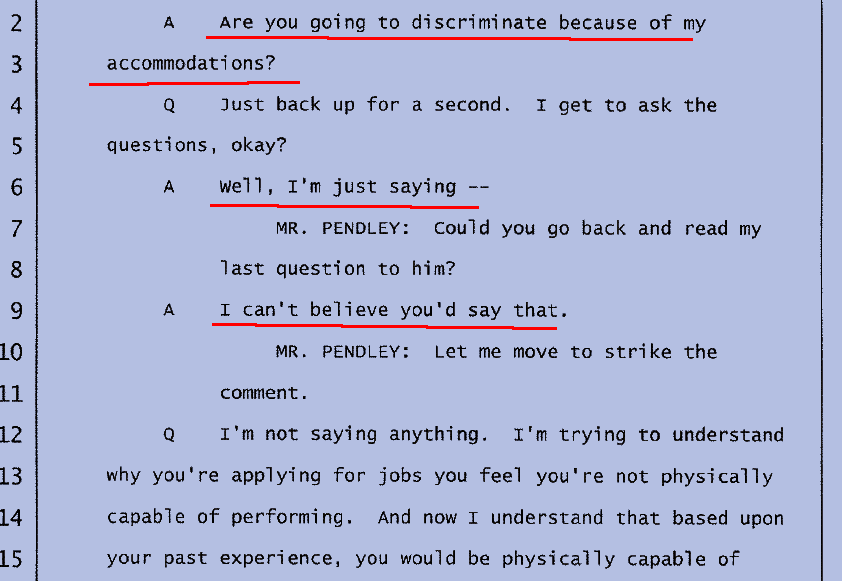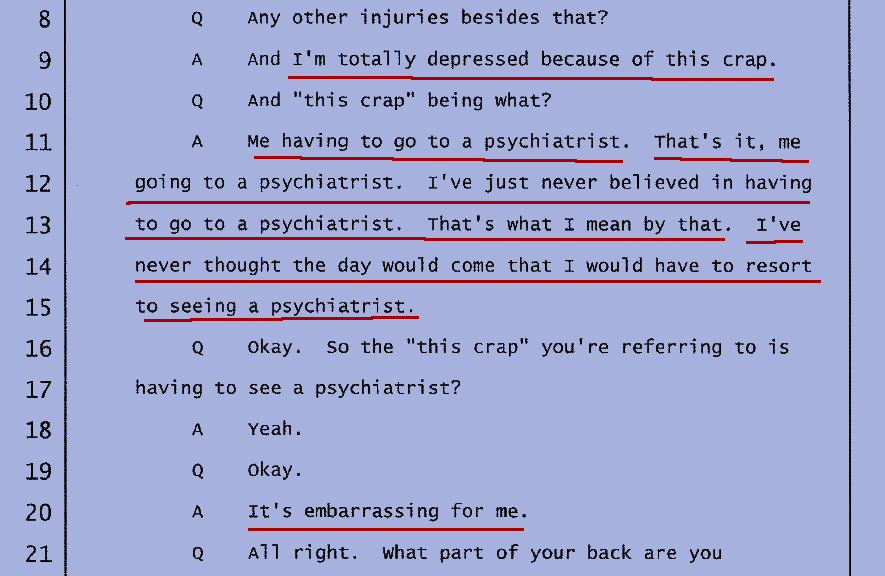 Wolfgang also indicates that he dependent on the pain medication Tramadol (though he later adds that "I just don't believe in Vicodin or Oxycodone."):

Wolfgang also falsely claims, under oath, that he was campaigning for Lake County Commissioner in 2011, when it reality the election was in 2010 (Wolfgang attended the April 2010 South Lake Hob Nob less than three months after his supposedly debilitating injury.)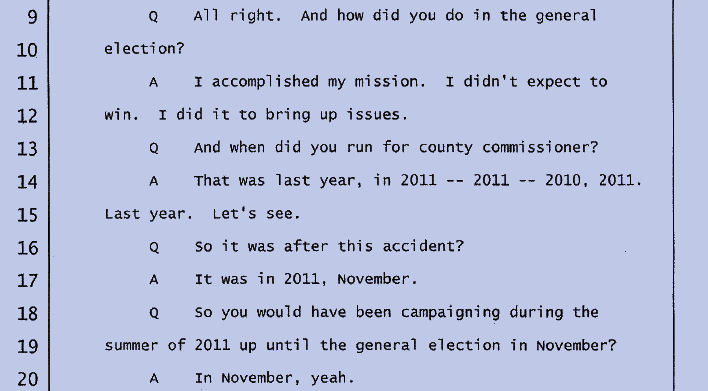 June 29, 2012: Several 7th grade students are suspended after a video of them bullying Karen Klein, a bus monitor in upstate New York, goes viral on Youtube. In the ensuing nationwide dialogue on bullying, an online fundraiser collects over $650,000 for Klein.
July 24, 2012 : Wolfgang Halbig posts a comment to a story about Karen Klein on facebook. He announces a fundraising drive, in which the donors would be paid back "once the company is up and running." This demonstrates his interest in finding a news story to latch onto and collect money off of.
August 27, 2012 – Wolfgang Halbig is ticketed for speeding. The case is eventually dismissed.<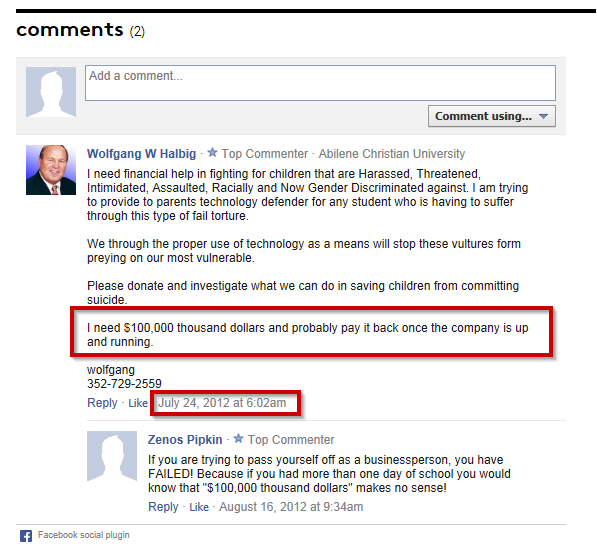 September 26, 2012: Florida drivers pay $7 million a year for driver's ed program that doesn't exist – article notes how the taxpayers are still paying the fee for Wolfgang's driver's education law, even though driver's education is no longer mandatory.

http://www.wftv.com/news/news/florida-drivers-pay-7-million-year-drivers-ed-prog/nSMnY/
Halbig said the worst part is he believes teens have died in crashes because they didn't take driver's education.
Now, he said, he knows the money was there.
"When a parent grabs you, they know what it is, and it's not good news. And you have to take them to the morgue to show them their child. Come on, we can do better than that," Halbig said.
Septtember 27, 2012: Wolfgang applies for another job with Lake County, apparently for the Affordable Housing Advisory Committee. On the application, under references, Wolfgang lists himself three times:

It is a general application, and under "Position" Halbig enters "Educational Consultant."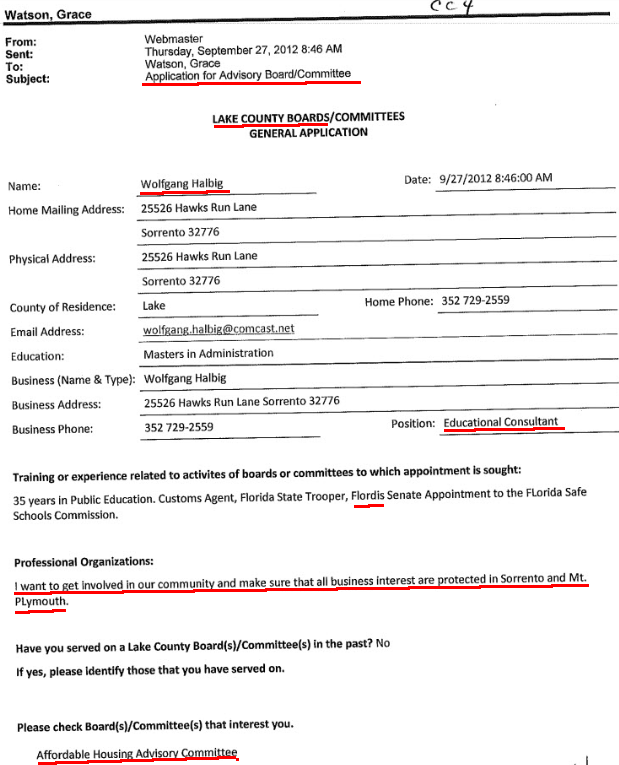 October 7, 2012: A comment is posted under the name "Wolfgang Halbig" on an ABCnews article about President Obama: [LINK]
wolfgang halbig
OBAM HATES THE JEWS AND DOES NOT EVEN ACKNOWLEDGE THAT JERUSALEM IS THE CAPITAL. HIS DEMOCRATIC PLATFORM REMOVED GOD FROM OUR FOUNDATION AS AMERICANS
Today I am as angry as anyone can get. What is it going to take for the uneducated Americans to get educated and start thinking about how they have responsibilities and not just rights that they throw in our faces everyday.
My father for four years I learned was in a NAZI PRISON in POSEN, POLAND.
Thank God that the Americans found him.
The letters I have now found in GERMANY makes me sick to my stomach as to what Hitler did to the Jewish Race. To this day I cannot believe that someone did not kill him which would have saved 6 million of our people there not just a jewish race they are people just like you and me.
THE UNEDUCATED Just keep watching that Idiot Box all day long because it appears our America is not the America that OUR Baby Boomers protected.
They listened to the RADIO since we had NO Idiot Boxes to watch, we listened to the radio and used our Imagination with the voices and sounds we heard.
October 2012: Comments are left under a number of articles, from the username "wolfgang halbig." The text is  usually copied from a "birther" website's "Obama timeline" or similar rumor list. [LINK]
He leaves the same comment here: [LINK]
another similar comment:[LINK]
more: [LINK]
on race: [LINK]
more on African-Americans: [LINK]
Obama "wedding ring" chain email: [LINK]
Hurricane Sandy: [LINK]
November 8 2012: Just days after the 2008 election, a user claiming to be Wolfgang Halbig posts a comment to a CNN article, critical of African-Americans. (see pg3 of this document.)
December 14 2012: Sandy Hook Elementary School shooting. "Hoaxerism" begins almost immediately.
Meanwhile in Florida, Wolfgang's son is arrested on the same day.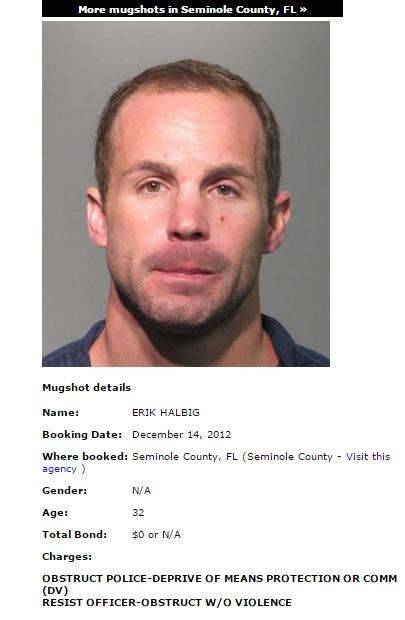 2013________________
January 30, 2013: Ownership of the Cranberry Isles Way property is transferred from Nancy Halbig to both Wolfgang and Kathy Halbig, as joint tenants. http://www.ocpafl.org/Searches/ParcelSearch.aspx/PID/282032114100700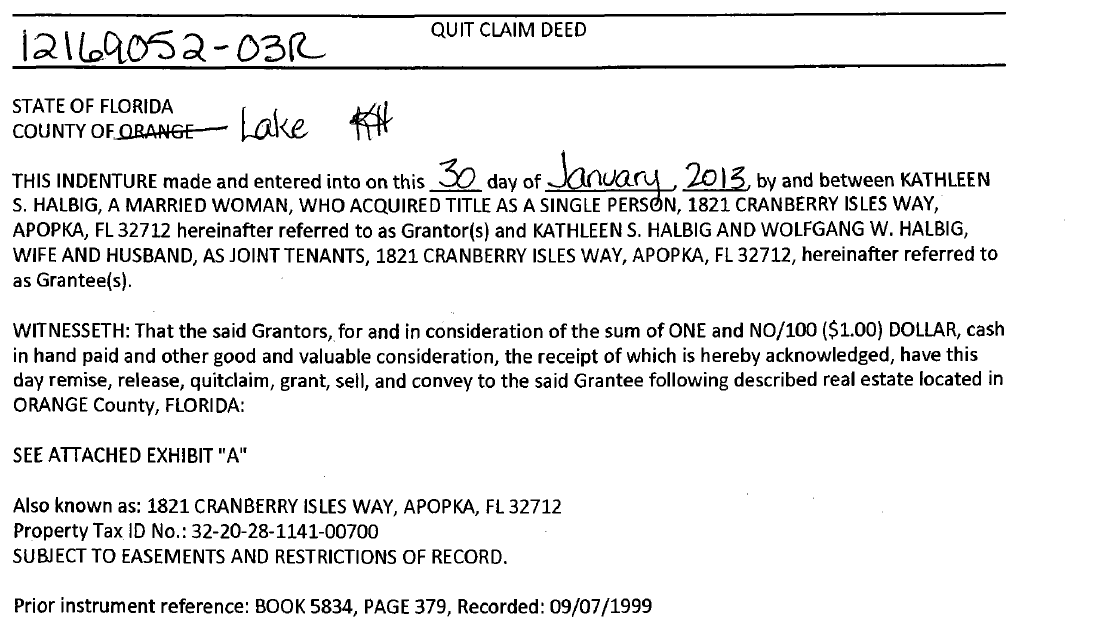 March 13, 2013 – Wolfgang Halbig delivers a safety presentation for Sonitrol of Southwest Ohio, at the Savannah Center in West Chester:

http://www.shiversecurityservices.com//wp-content/uploads/2019/08/uploads/School_Safety_Seminar_Registration_Flyer.pdf
Hamilton County Disabilities covering it:
http://www.hamiltondds.org/uploads/Board%20Minutes/Minutes%203%2012%2013.pdf
http://www.securitysales.com/article/planning-school-safety-training-for-the-education-market
How did you choose the speakers for the seminar?
We wanted this to be an interactive discussion, and we wanted people to be able to share best practices because each school is unique, so each of their plans is going to be a little bit different. You don't want to put your audience to sleep. You want to make sure the speaker engages the audience, keeps them interested, and presents information relevant to your participants.
We had national safety expert Wolfgang Halbig as one of our speakers. He had attended one of our previous school seminars, and he did a really dynamic presentation that talked about active shooters, bullying and all the different types of crime that can occur within a school environment. We also had speakers from the Cincinnati Police Department District 4 and representatives from the Hamilton County Prosecutors office. Because attendees are going to ask a lot of questions, I highly recommend inviting a police district that has a good rapport with your company.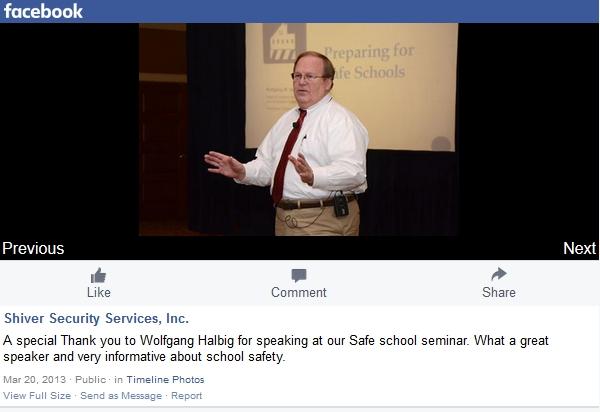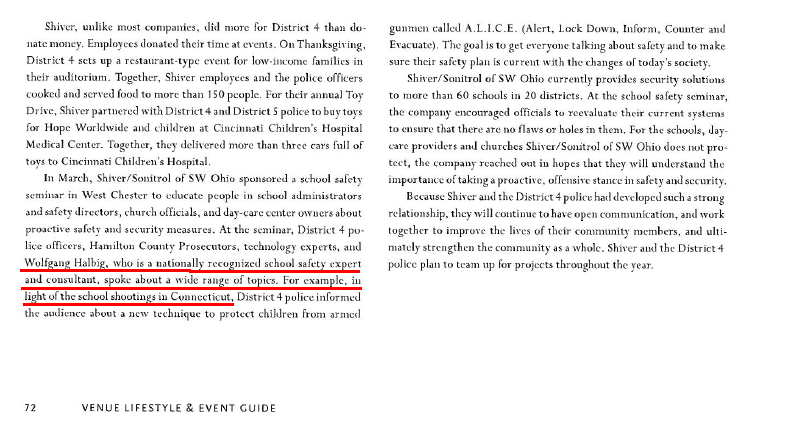 June 29, 2013: "Wolfgang Halbig" leaves a comment on the website "Special Education Advisor."
http://www.specialeducationadvisor.com/cameras-in-special-needs-classrooms-not-so-fast/

June 12, 2013: Wolfgang Halbig applies for another position with Lake County, this time working with criminal offenders and/or victims: http://lakecountyfl.suiteonemedia.com/Web/GenFile.aspx?ad=1535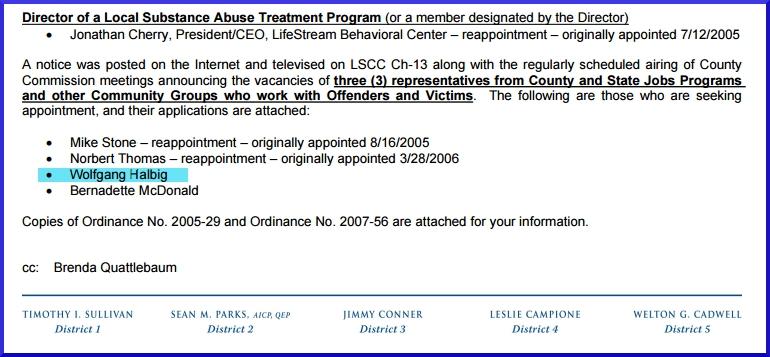 July 13, 2013: Wolfgang conducts a safety seminar at the David L Lawrence Convention Center in Pittsburgh. The event's description promises sessions on the "EXTRA HANDS" Safety Shield , as well as the  "CALMING SOUNDS" headset.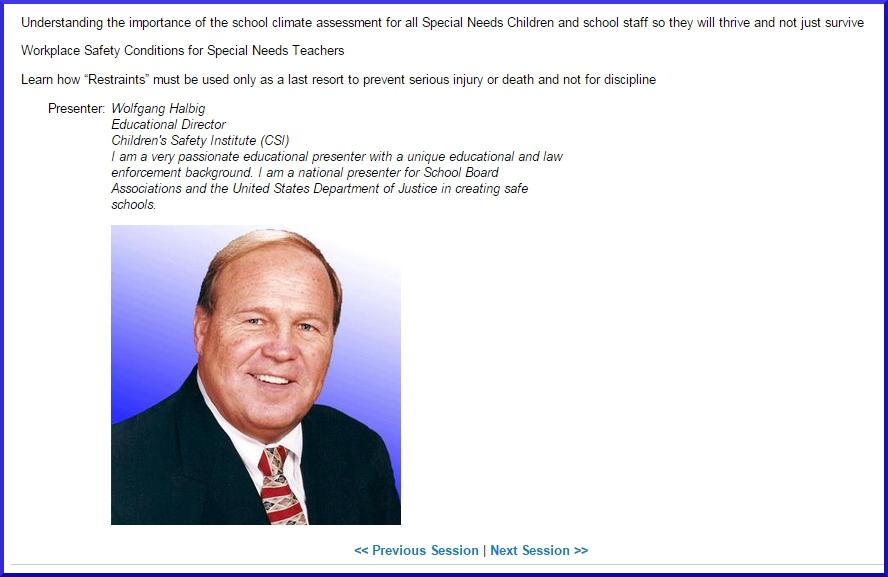 The description reads in part: [LINK] [LINK]
Learn new Innovative Teacher Strategies and tools that will reduce the use of restraints in the classroom. Too many children and teacher injuries have received national attention in finding new solutions for restraints. These strategies and tools work for college and professional football, baseball and basketball players as well as music and movie stars, and the question is, Why not for children with special needs?
September 27, 2013: According to emails published by Florida Atlantic University Professor James Tracy, Wolfgang sends the following email to Newtown First Selectman Pat Llodra.
From: Wolfgang Halbig
Fri, 27 Sep 2013 09:00:43 -0500
Subject: Mike Kehoe your Police Chief should be immediately fired for Negligence
Mrs Llordra:
I find this e-mail very difficult to write but as a Former Florida State Trooper and old now find the actions of your Police Chief very disturbing.
I have dedicated my life in public service and to read about your police chief giving Lt. George Sinko only a letter of reprimand for failing to respond to the Sandy Hook Elementary School Shooting on Dec 14, 2012
You should ask yourself as to how a Lt. working an off-duty detail at a construction site and making overtime money can ignore 911 calls and a Newtown police dispatcher requesting help from police officers for shots fired at The Sandy Hook Elementary School.
I cannot imagine any police officer ignoring emergency help requests when children and school staff lives are being threatened.  To sit in your car and listen to all those emergency calls go over the airwaves and do nothing is negligence.
For over two hours he sits and does absolutely nothing while children and school staff are being shot and killed.
Your Police Chief states in the newspaper that he is not a first responder.  He also states that he was off duty.
I can tell you and so can any other certified law enforcement officer when working an off-duty detail that you are never off-duty especially when lives of children and school staff are at stake.
We in law enforcement are on duty 24/7 always on call.
This Lt is  24 year veteran and if he does not know his responsibilities then he should also be immediately be fired along with the Police Chief.
This is a national embarrassment that clearly demonstrates negligence by both the Police Chief for not calling him to duty that morning and for the Lt not responding to this crisis.
We are all first responders even if you are a Lt.
How embarrassing for the City of Newtown Ct having a Lt. sit for over two hours and not respond and only be given a letter of reprimand.
I know that there is more to the story and I only hope that you use common sense in handling this huge embarrassment for your City.
Wolfgang W Halbig
October 17, 2013: According to emails published by Florida Atlantic University Professor James Tracy, Wolfgang sends the following email to Newtown Schools, cc'ing CBS News. NOTE: Stanley Security purchased Sonitrol in 2008 [LINK]
From: Wolfgang Halbig
Date: Thu, 17 Oct 2013 14:11:53 -0500
To: Kathy June <[email protected]>
Cc: "[email protected]"  "[email protected]"
Subject: Last try for Freedom of Information Act from your Interim Superintendent
Kathy;
Please tell your Interim School Superintendent that his response is total Horsepoop.
Hiding behind the safety of children and school staff in not releasing my information request is unprofessional if he is an educator.
I am simply asking for the Vendors name who you the school district or school hired to install the security system at Sandy Hook Elementary School with address and contact numbers
Just like Stanley Security Solutions has installed all of the security tools at the Sandy Hook replacement school.
They have donated over $100,000 thousand dollars in front door access control with CCTV CAMERA AND ACCESS BUTTON WITH CMAERA BEING A COLOR CAMERA.
THEY HAVE PROVIDED CARD READERS AT VARIOUS DOORS FOR STAFF USE.
THEY HAVE PROVIDEd YOUR SCHOOL WITH A NUMBER OF CCTV COLOR CAMERAS PLACED IN VARIOUS AREAS OF THE SCHOOL WHICH I DON'T WANT TO DISCLOSE SINCE IT MAY PLACE CHILDREN AND SCHOOL STAFF AT RISK.
What is wrong with your school district and your superintendents?  What are they afraid off?
I need the total cost of the project.
I need the date of completion.
I need the breakdown of the total cost as to what did the cameras cost? Are they color or just black and white?
I do not want to know the locations as I do know the placement of the cameras at the Sandy Hook replacement school and I promise not to ever hurt any child or staff in your school district.
Please comply with my FOIA as soon a possible since I have been waiting forever.
Wolfgang W Halbig
October 31, 2013: Wolfgang sends the following email to the FBI, cc'ing CBS news, ABC news, 60 minutes, and Bruce Winner and Ron Davis (according to a January 2014 facebook post from Wolfgang.) Nearly a year after the Sandy Hook shooting, Halbig expresses suspicion that the shooting did not take place, as well as frustration that his Freedom of Information Act requests are not being acted upon:
From: Wolfgang Halbig <[email protected]>
Date: Thu, 31 Oct 2013 08:17:17 -0500
To: <[email protected]>
Cc: "[email protected]" <[email protected]>, "[email protected]" <[email protected]>, "Winner, Bruce" <[email protected]>, "[email protected]" <[email protected]>
Subject: Some one needs to go to jail/Second request
FBI:
There is no question about what your next step should be in the Sandy Hook Elementary School Shooting on Dec 14, 2012.
Someone needs to go to jail just for the sheer negligence in failing to request the Medevac Trauma Helicopters to respond to the Sandy Hook Elementary School.
In every Active Shooter Training exercise the CT State Police and or local law enforcement always use the Medevac Trauma Helicopters to land at a school site used for practice so educators ail understand what will happen when children and school staff are seriously injured.
Now we actually have a shooting but No one requested the trauma helicopters LIFE STAR. I called Life Star and they where as surprised as I was when they where Not requested that morning. Please contact them and use my name.
Never in my 36 years working as a Florida State Trooper or US Customs Agent or Teacher, Coach, School Administrator have I ever witnessed a school district or law enforcement agency hiding the truth from parents and school districts across this country.
[…] When a US President goes on National Television on the afternoon of the Sandy Hook Elementary School Shooting on Dec 14, 2012 with tears and promises the country that he will use every resource of his office in investigation this heinous crime.
He stated that he personally contacted the Director of the FBI Robert Mueller and even the Gov of CT Malloy and promising them the same resources.
How in the world with all those resources from the FBI, Alcohol, Tobacco and Firearms, Secret Service, NSA , Ct State Police and local law enforcement that a school,l shooting is 11 month old with NO information?
Is the Presidents words meaningless? Sparks Nevada in which a teacher is shot and killed and the FBI and Homeland Security have been assigned to investigate and you in Newhaven have NO clue or are you intentionally hiding the truth?
I believe that 1 of 2 things occurred on Dec 14th, 2012. 1) The EMTs/First responders were negligent & should be charged with Sec. 53a-56. Manslaughter in the second degree or 2). When the EMT's failed in requesting the Medevac Life Star Trauma Helicopters on Dec 14, 2012 they prevented children and school staff from receiving the best life savings medical services available especially since two children died at the hospital. Why?
The Connecticut State Police were uttering false statements & should be charged with Falsely reporting an incident in the first degree (CONN. GEN. STAT. § 53a-180), receive no less than 1 year, nor more than 5 years' imprisonment; No more than $5,000 fine.
You have a Lt. from the Newtown Police Department working an off-duty detail at a construction site on Dec 14, 2012 which is 1.3 miles from the Sandy Hook Elementary School when the calls goes out that shots are fired at Sandy hook. He chooses not to respond. Why?
The Police Chief of Newtown justified his actions by stating that he is not a first responder. Ask any police officer as to what they would have done if they where working an off-duty detail and heard the call shots fired. If you want the truth.
I called the Newtown Public Schools to find out who they contracted with in sanitizing and decontaminating the Sandy Hook Elementary School since they had serious Bio-Hazard exposure in that crime scene and where considering opening the school again as stated in the Newtown Bee.
They responded by saying what Bio-Hazards are you talking about at the school.
I stated like Blood, Bodily Fluids, Brain Matter on the walls, the floors in the hallway and classrooms, on the school desks and windows because you are looking at 45 to 60 gallons of blood displaced and splattered everywhere.
They would not provide with the name of a company. Why? It has nothing to do with the criminal investigation does it?
21 Ct Freedom of Information Act requests and not one response to just simple questions. Why?
I am requesting that your office personally respond to my allegations in which I believe a Federal Crime has been committed as soon as possible.
The FBI at Newhaven has ignored a Presidential directive in using every available resource in investigating this heinous crime at the Sandy Hook Elementary School on Dec 14, 2012. Why?
All those resources and you after 11 month stay silent which I believe is a crime.
Thanks
Wolfgang W Halbig
352-729-2559
November 7, 2013: Wolfgang Halbig files a lawsuit against Errol Estate Property Owners Association Inc. This is the second lawsuit associated with Halbig's slip and fall in January of 2013, the previous target being the city of Apopka (reportedly settled for a sum of approximately $11,000, less fees.)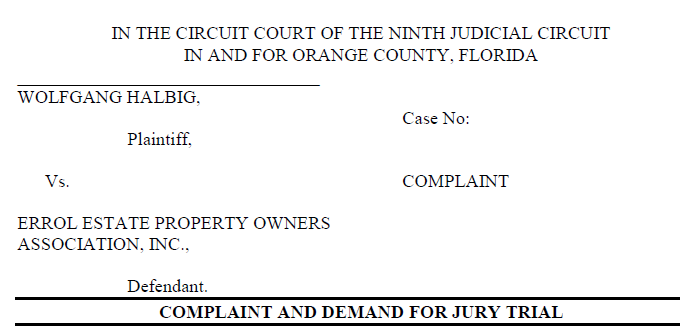 November 20, 2013: Smallstorm and Fetzer on Sandy Hook, Fukushima, RF Radiation – Professor James Tracy posts a link to his "Memory Hole" blog. It is for a radio interview conducted by Professor Jim Fetzer, with a person calling herself "Sofia Smallstorm." Smallstorm, Fetzer and Tracy all had prior interactions through the 9/11 truth community.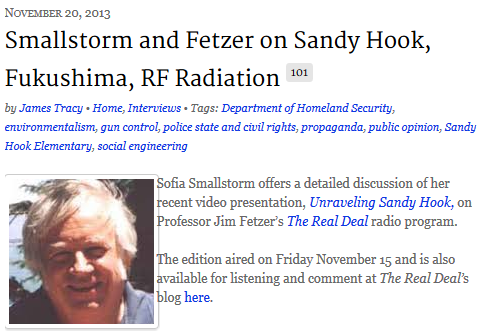 December 2, 2013: Halbig emails Sally Cox and other Sandy Hook shooting survivors, according to emails published by James Tracey (note that Sally Cox hid in a closet during the shooting.)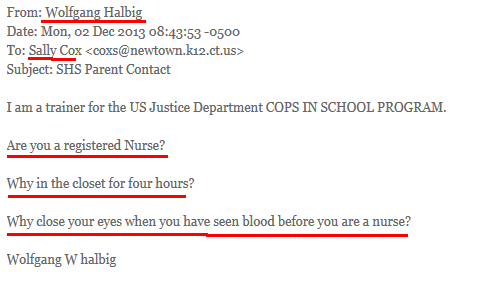 December 6, 2013: Facebook post http://archive.is/H73E7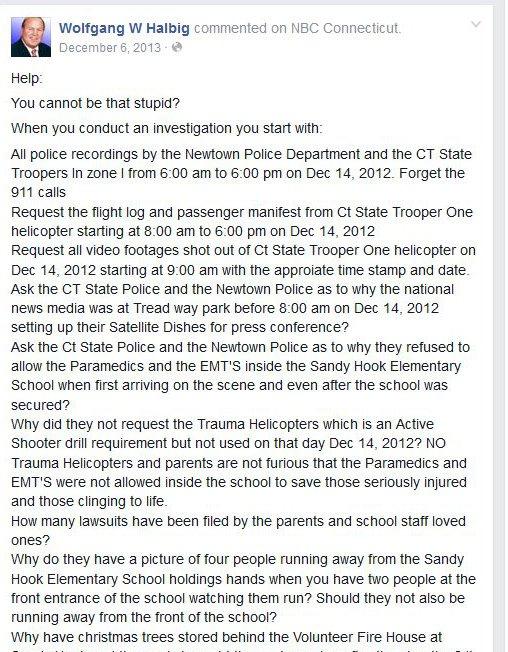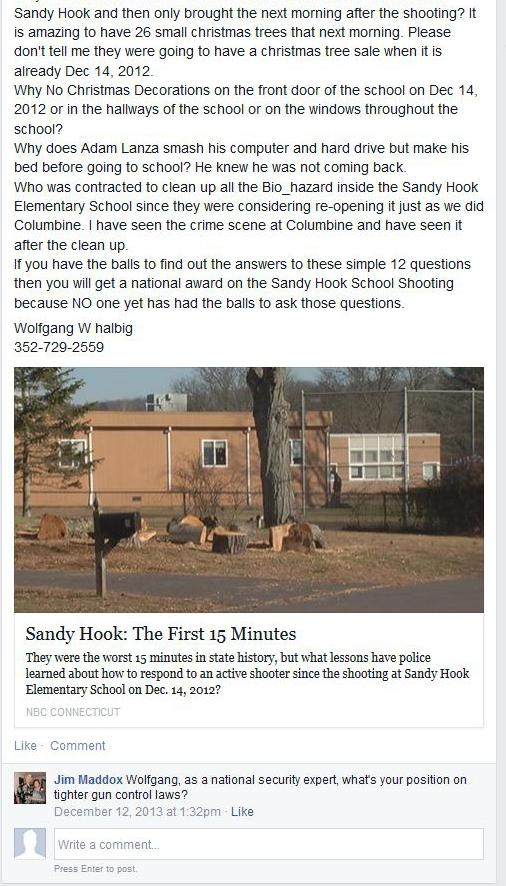 December 10, 2013: CNN Comment: [LINK]